Scientific name: Sarcodontia setosa (Pers.) Donk
Derivation of name:
Synonyms: Hydnum setosum Pers.
Common name(s):
Phylum: Basidiomycota
Order: Polyporales
Family: Meruliaceae
Occurrence on wood substrate: Saprobic; forming
spreading, crustlike patches on logs and branches of
deciduous trees, especially fruit trees such as apple; July
through October.
Dimensions: Fruit bodies 5-20 cm across; spines are 5-10
mm long.
Description: This bright yellow spreading crustlike fungus is
crowded with pendulous, waxy spines. The spines stain
reddish where bruised and the fungus has a sweet-fruity to
intensely unpleasant odor.
Edibility: Inedible.
Comments: I have yet to encounter this species in a natural
habitat. It is apparently widely distributed but not common.

More information at RogersMushrooms.com:





Figure 1. This specimen was collected at the 2001 NEMF
foray. The reddish mark in the center may be an example
of the wine-red stain which occurs following bruising.
Photo © Gary Emberger.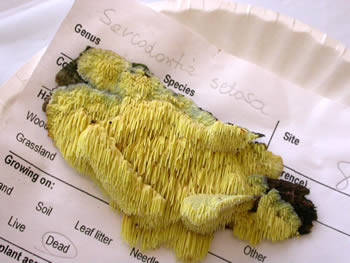 Figure 2. This specimen was collected from a dead apple
tree in PA for an EPM foray. Photo © Gary Emberger.

Figure 3. The yellow, pendulous spines can be up to 10 mm
long. Photo © Gary Emberger.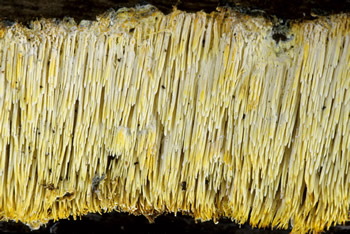 Figure 4. Teeth of Sarcodontia setosa.
Photo © John Plischke III.