Coordinator for Transfer Recruitment
Coordinator for Transfer Recruitment
Hometown: Roxbury, NJ
Degree: French with teaching certification and TESOL certification
Why I love Messiah: beautiful campus, rigorous academics, and supportive environment for spiritual growth
My friends would describe me as: …adventurous, interested in world cultures, fun-loving
Favorite spot on Messiah's campus: Yellow Breeches
Favorite food served in Lottie Nelson Dining: soft-serve ice cream
Best place to visit around Messiah: Hersheypark
Hello! Thanks for taking the time to check out our website! I'm glad you are interested in Messiah, and I'm happy to help with questions you may have about the college search and admissions process. My name is Rebecca Rosenbarker, and I'm excited to be working with transfer and international students.
I graduated from Messiah in 2011 with a degree in French with teaching certification and a minor in Teaching English to Speakers of Other Languages (TESOL) with certification. I was initially drawn to Messiah due to the interest in educating and nurturing students not only academically, but also spiritually and socially. In my four years here, I was involved many different clubs and organizations, and enjoyed every minute of it. I also had the privilege of studying in Strasbourg, France and Philadelphia, Pennsylvania through the Intercultural Office. Before coming back to Messiah in this field, I lived and worked in a small Amazonian village in French Guiana. Returning to campus has reminded me the extent to which my professors and peers at Messiah encouraged and supported me as I grew in my faith, and challenged me to explore God's purpose for my life.
Having been there myself not too long ago, I understand that the college search process can feel overwhelming, but all of the admissions counselors here are available to make it seems less daunting. Please feel free to contact me with any questions or concerns that you may have!
Rebecca Rosenbarker
Coordinator of Transfer and International Student Recruitment
All First-Year International students, Missionary Kids, and Third Culture Kids please fill out our student interest form.
Transfer Student Questionnaire
If you are a transfer student, please fill out this questionnaire so I can better serve you. I'll get back to you as soon as possible. Fields with *are required. Thanks!
Contact Information: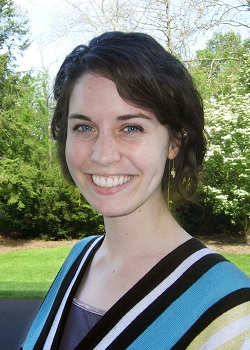 Rebecca Rosenbarker
Messiah College
One College Avenue
Suite 3005
Mechanicsburg, PA 17055
Phone:
++ 717-691-6000 (outside the USA)
1-800-233-4220 (within the USA)
Email:
transferadmiss@messiah.edu (Transfer students)
intladmiss@messiah.edu (International students)
Territory Served: Transfer and International students