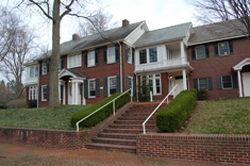 Climenhaga Homestead and McBeth Alumni Center
Climenhaga Homestead and McBeth Alumni Center
The Climenhaga Homestead, now a full-service conference facility with four guest suites, was once the home of Asa and Anna (Kipe) `16 Climenhaga. The Climenhagas both taught on campus and were committed to staying connected with students, so they built their home in close proximity to campus.
The office of alumni and parents relations is located in the adjoining McBeth Alumni Center, named for David and Lois McBeth. David was a college administrator for 18 years, initiating and maintaining several important alumni services like The Bridge magazine, an alumni advisory council, and coordinating Homecoming events and similar programming. All four of the McBeth's children attended Messiah.
The Engle Center for Counseling and Health Services
The Engle Center for Counseling and Health Services was built in 1952, originally serving as housing for married students living on campus.
In 1996, this structure was named for Dr. Harold and Mary Elizabeth Engle in recognition of their service to the field of medicine and tireless commitment to Messiah College. The Engles both attended Messiah; Mary received her high school diploma from the Messiah Academy and Harold was a student of Messiah Bible College. He has also served as a College trustee.
Hoffman Hall
Hoffman Hall is named for two members of Messiah's faculty who were very influential in the College's early years—Mary, first Messiah archivist, and Clara, first Messiah librarian, Hoffman. The building was constructed in 1952 with the original purpose of being a women's dormitory that also housed a health center, guest rooms, the dean of women's suite, a lounge and laundry room, and 40 double rooms. Now, the building is home to The Writing Center, Disability Services offices, the Sider Institute, a commuter lounge, and the offices for Information Technology Services.
Hostetter Chapel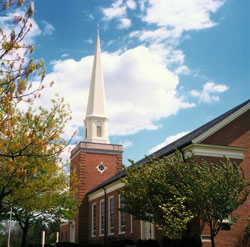 Hostetter Chapel
Messiah's first chapel was located in Old Main, in what is currently the College's admissions office. In 1961, the College partnered with the local Brethren in Christ Church to build Hostetter Chapel, a designated space for worship (both for the campus community and the church congregation), personal meditation and prayer, and Christian education. In 1998, the Brethren in Christ Church relocated to a new facility at the entrance of campus.
Hostetter Chapel is named for three generations of Messiah presidents: D. Ray Hostetter (1964-1994), C. N. Hostetter Jr. (1934-1960), and C. N. Hostetter Sr. (1917-1923). Collectively, these men provided leadership to Messiah for a total of 64 years.
Today, the chapel is used for a variety of functions, including a weekly student-led worship service called Powerhouse, alternate and elective chapels, guest speaker lectures, personal prayer and meditation, and concerts.
Hostetler/Mark House, serving as the Agape´ Center for Service and Learning
The Agape´ Center for Service and Learning is located in the center of campus. The Center develops, administers, resources, and coordinates programs of service-learning, community service, and mission so that students and faculty have opportunity to work with local, national, and international partners to address community needs, to provide holistic learning opportunities, and to encourage students towards an ethic of discipleship, service, and engagement.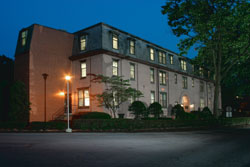 Old Main
Old Main
Old Main was the first building on Messiah's Grantham campus. It originally housed the chapel, library, dining hall, 35 dormitory rooms, and 7 classrooms. Now, Old Main houses a variety of administrative offices as well as the admissions office.