Messiah seals time capsule containing current campus items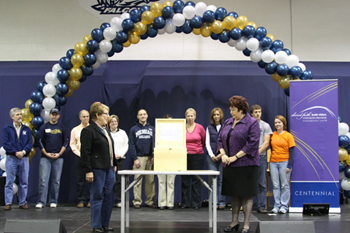 President Kim S. Phipps (right) and Board Chair Eunice Steinbrecher prepare to close the Centennial time capsule during Homecoming festivities.
Various campus departments contributed items that represent college projects and reflect the present life of the campus to a time capsule which will be stored under lock and key until its reopening in 2034.
The items were put in the time capsule during Homecoming weekend with a letter from the Student Government Association's President's Cabinet written to the students opening the capsule in 25 years.
Senior vice presidents, students, and alumni placed items representing their areas in the time capsule.
The time capsule includes the following items.
H1N1 flyer and hand sanitizer from Human Resources
Centennial calendar from the Office of Development
Development proposal for the anticipated construction of a Worship and Performing Arts Center addition to Climenhaga Fine Arts Center
A copy of the Centennial coffee table book
Copies of the 2008-2009 President's Report, Centennial brochure, and issues of The Bridge magazine
Board of Trustees handbook
White-Out t-shirt
Tabletop advertising piece from the Office of Admissions
Four-week cycle of menus from Lottie Nelson Dining Hall
Map of campus and aerial view photographs
Calendar of events for 2009
Student ID card
A copy of the strategic plan
Uniforms from the men's and women's soccer teams
A copy of the student handbook
A residence hall key
A brochure from the EpiCenter
A copy of the post-graduation employment report from the Career Center
A copy of the athletics handbook
An issue of the Swinging Bridge
A homecoming t-shirt and brochure
A schedule of tuition and fees
A college catalog
Class syllabi from the College's first graduate school courses
An alumni directory