Engineering at Messiah College
Become a technically competent, effective analytical thinker who creates real-world engineering solutions through our top-ranked, ABET-accredited Bachelor of Science in engineering degree (BSE) program.
Messiah is the only private Christian college in the country with an ABET-accredited undergraduate program that offers our unique mix of six types of engineering degree concentrations. You can choose to concentrate in biomedical engineering, civil engineering, computer engineering, electrical engineering, environmental engineering or mechanical engineering. And, for the past five years, Messiah College has been ranked as a "Best Undergraduate Engineering Program" in the U.S., by U.S. News and World Report. According to the 2017 rankings, Messiah was #55 out of 200 programs nationally.
Engineering degree program distinctives:
Internship and research opportunities for engineering majors
Modern facilities
In addition, you'll get to use our specialized facilities, including a professionally staffed machine shop; state-of-the-art mechanical, electrical, environmental and biomedical engineering labs; industry-standard engineering software, and in-house circuit prototyping equipment.
Hands-on engineering experience as a student
Beginning your second year, you'll work on IPC projects that meet the needs of a real-world client. You'll learn to engage problems in the broader context of environment, culture and economics and develop process, design, teamwork, leadership, project management and planning skills. This unique project integration affords you the opportunity to begin using your engineering skills right away, not only in Pennsylvania, but around the world. And when you finish your degree, you'll walk into your first job with a complete project management and technical application experience.
Diverse coursework
To meet the engineering degree requirements, you'll take 15 pre-engineering courses and eight upper-level engineering courses. Then, you'll finish up the degree with nine courses in the biomedical, civil, computer, electrical, environmental or mechanical concentrations.
Continually recognized a top engineering degree program by U.S. News and World report, our engineering courses provide a balance of technical knowledge, broad education and Christian faith, in addition to you getting the opportunity to apply your knowledge to service projects in real, tangible ways through the College's unique Integrated Projects Curriculum (IPC).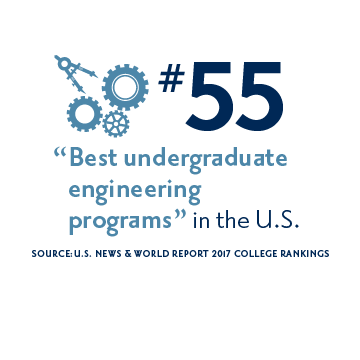 Concentrations
Students in the engineering program choose a concentration and take a selection of courses that successfully prepare them for a career in a related field.