Accepted Student Preview Day - School of Science, Engineering and Health
Date: February 24th, 2017
Location: Eisenhower Campus Center
Cost: Free
You and your family are invited to spend a day at Messiah College. Check-in for this Accepted Student Preview Day begins at 8 a.m. in the front lobby of Eisenhower Campus Center. The opening session begins at 9 a.m. in Parmer Hall of the Calvin and Janet High Center for Worship and Performing Arts.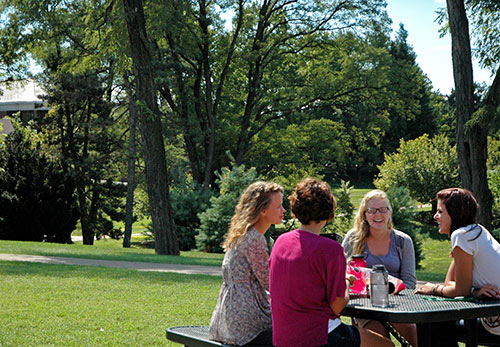 Discover for yourself why approximately 2,800 young men and women have chosen Messiah College. Plan now to visit our campus in Grantham, Pa. just ten miles south of Harrisburg, for one of the accepted student preview dates listed.
The noon meal will be provided FREE to registered guests. Other highlights include campus tours and information sessions on admissions policies, financial aid, academic programs and campus life.
This Preview Day is for accepted students interested in the following majors:
Adventure Education
Applied Health Science
Applied Health Science, B.S./MSOT in Occupational Therapy 3 + 2 - Thomas Jefferson University
Athletic Training
Biochemistry
Biochemistry, B.A./Doctor of Pharmacy (PharmD) 3+ 4 - University of the Sciences
Biology*
Biopsychology
Biopsychology, B.S./MSOT in Occupational Therapy 3 + 2 - Thomas Jefferson University
Chemistry*
Computer and Information Science
Digital Media - Mobile Application and Game Design
Engineering
Environmental Science*
Health & Physical Education*
Mathematics*
Molecular Biology
Nursing
Nutrition & Dietetics
Physics*
Pre-Professional Programs

Pre-Chiropractic
Pre-Dental
Pre-Medical (allopathic and osteopathic)
Pre-Occupational Therapy (3+ and 4 year)
Pre-Optometry
Pre-Pharmacy (3+ and 4 year)
Pre-Physical Therapy
Pre-Physician's Assistant
Pre-Podiatry
Pre-Public Health
Pre-Veterinary

Sport Management
Sustainability Studies - Sustainability Agriculture
*Students interested in a teaching certification in a specific major should attend the School that contains that primary major.