History (B.A.)
At Messiah College, you'll find there's much more to studying history than memorizing dates and facts.
Prepare for a rewarding career in teaching, government, law, business, museums and archives, historic preservation, public history, journalism and more. Your coursework at Messiah covers many historical periods and subjects, and includes many study abroad and internship opportunities. By learning about history in the Christian liberal arts tradition, you'll cultivate important skills such as critical thinking, excellent writing and methods of research.
While at Messiah College, you'll also find plenty of ways to link what you're learning in the classroom with hands-on experience. History majors intern in places such as the Naval Surface Warfare Center, Gettysburg National Military Park, Pennsylvania House of Representatives Archives, National Civil War Museum, World Relief, Mt. Rushmore National Park and the Litigation Division of the CIA. Our faculty leads many cross-cultural courses to exciting places like Cyprus, Nepal, and Ethiopia, to name a few.
As a history major at Messiah College, you'll be able to:
Intern with state and federal government offices, archives, public history organizations, museums, institutions of historic preservation and law firms.
Participate in Messiah's cutting-edge public history programming.

Study abroad in England, Germany, France, Greece, Spain, India and China. Or, consider studying in our nation's capital.
Delve into our library's substantial history collection, computer-based bibliographic and statistical resources, up-to-date set of major monographs in each historical field and a far-reaching interlibrary loan system.
Pursue independent studies and, if you qualify, undertake a major honors project under faculty supervision.
Complete a minor in English, economics, journalism, communication, languages, business and/or politics.
Take challenging and thought-provoking courses such as the Wild, Wild West, Social Movements in Twentieth-Century America, Greco-Roman Society and Culture, Modern Civilizations of Asia, and The History of Africa, among others.
Join Phi Alpha Theta, one of the oldest national honor societies in America, or the History Club.
Study history grounded in the ethics of historical Christianity.
Teaching certification

And if you are interested in teaching at the secondary level (grades 7–12), you can earn certification in social studies by taking supporting courses in economics, politics, anthropology, sociology and more. If you're looking for a history program where you can study American classical, medieval, renaissance, European and world history, Messiah's program is for you!
Major requirements:

Students can follow the general history major and choose from the following concentrations:
Teaching certification requirements:
PDF Course Listing (B.A.) with Social Studies Teaching Certification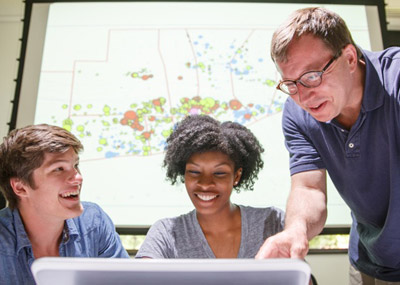 Messiah gave me the opportunity to work in original academic research with professors who provided me with both personal support and intellectual challenge.
-Student