Director's Welcome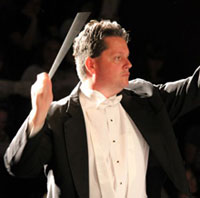 Welcome to the Graduate Program in Conducting at Messiah College. We are an engaged community of faculty and students who are passionate about music. Our program is focused on developing a deeper understanding of musicianship and maximizing the effectiveness of the conductor in the transference of musicianship from teacher to student. Additional emphasis is placed on life-long learning and its role in the continued development of the musician/conductor.
Our program offers tracks in choral conducting, wind conducting and orchestral conducting. In addition, we offer a Certificate After Graduate Studies (CAGS) in conducting for students who already have a graduate degree and are seeking further developmental opportunities. Our curriculum for both the degree and certificate includes coursework in analytical studies, literature and repertoire, woodwind, brass, percussion, string, vocal pedagogy, vocal diction, private applied conducting and conducting symposiums for all tracks. As a graduate of our program you will be a more efficient communicator on the podium and possess a more refined approach in rehearsal strategies.
This program utilizes technology, which erases geographical boundaries that have limited professionals in obtaining degrees in conducting in the past. Our students are able to study conducting at Messiah while maintaining their current teaching positions. Each student will be studying and refining pedagogical methods on each instrument family studied within their degree.
If you have the desire to develop a better understanding of musicianship, rehearsal technique and conducting technique, please consider applying for our program in conducting at Messiah College.
Sincerely,
Bradley Genevro, DMA
Graduate Program Coordinator
Director of Bands
Associate Professor of Music