Honors Congress: Overview and Requirements
During the fall and spring semesters, the College Honors Program sponsors the Honors Congress, a semester-long series of cultural and academic events that is an integral part of the Honors Program curriculum. The focus of the Honors Congress changes from semester to semester. Sometimes the Honors Congress is organized around a specific theme while other times the Honors Congress offers an array of presentations, lectures, films, theater, musical opportunities, field trips, etc.

All College Honors Program participants are required to complete three semester-long Honors Congresses during their eight semesters at Messiah. The completion of an Honors Congress requires that a student attend three of the semester's scheduled events. First year students must complete a Congress semester during fall of their freshman year. Participation in the Honors Congress is on an "honor" basis, meaning that each student is responsible for meeting and monitoring his/her own Honors Congress participation.
Apart from the formal requirement, honors program participants are encouraged to take advantage of the opportunities provided by as many Honors Congresses as possible.
Current Schedule of Honors Congress Events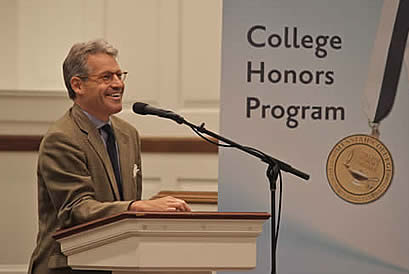 Honors Congress event: Author Eric Metaxas giving the 2012-13 CHP Keynote Address, "Bonhoeffer: Pastor, Martyr, Prophet, Spy," in Hostetter Chapel on November 7, 2012.
[
Metaxas Lecture Video
and
Feature Article
]