Graduate Programs Admissions

Applying for admission to a graduate program at Messiah College is the first step to making your personal and professional goals a reality. Our programs combine theory and practical experiences in a student-centered dynamic learning environment. Graduate programs are designed in the tradition of Messiah's academic quality and taught by Messiah's faculty.
Whether your intent is to take several courses for personal enrichment, or to pursue a graduate degree or certificate, our programs are designed specifically for your busy lifestyle. Most coursework can be completed online and many programs have flexible starting dates with courses beginning every eight weeks. As you begin the application process, our admissions staff is available to assist you every step of the way, so that you can begin your graduate study at Messiah College.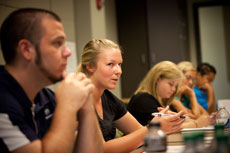 Our program
We are proud when our undergraduate alumni choose to pursue their graduate study at Messiah, and many of them do. But graduate students also come to Messiah College from a wide variety of educational backgrounds.
Read more