Explore your opportunity to earn a degree in three years at Messiah College
A Messiah College education enriches and transforms you as a student and prepares you to pursue a meaningful life's work wherever God calls you. And as you and your family also know—a college education is a significant investment of your time and money.
At Messiah, you have the opportunity to leverage your investment and achieve your goals ahead of schedule in certain majors by earning your bachelor's degree in three or 3½ years. Some students choose to graduate early to reduce the costs of tuition, student loans, and other college-related expenses. Other students want to get a head start on their career or graduate school. For many students, it's a little of both. Whatever your reason for considering a three-year or other accelerated degree, it's important to understand what's involved and whether this opportunity is right for you.
"Three ways to three years"
If you are interested in the opportunity to graduate early, click any of the options below to explore a combination of three main strategies: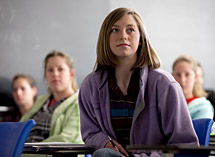 At Messiah, graduating one year early can save you as much as $37,000;* graduating even one semester early can save you nearly $20,000*—all while giving you a head start on your career or graduate school.
* Savings estimated based on...
1. Leverage the alternative credit you earn prior to coming to Messiah
3. Take advantage of Messiah's summer online courses
Questions?
Contact Jim Sotherden, College Registrar (717.691.6074 or JSotherd@messiah.edu) or
Robin Lauerrman, Assistant Dean of General Education and Common Learning/General Education (717.766.2511, ext. 2410 or Rlauerma@messiah.edu).