Boyer Award Given by New American Colleges & Universities
January 23, 2015, at the annual American Association of Colleges & Universities meeting in Washington, D.C., a University of Pennsylvania administrator received the Ernest L. Boyer Award for his leadership of a unique Penn program focused on community engagement.
Here's the press release from the University of Pennsylvania:
Ira Harkavy, the associate vice president and founding director of the Barbara and Edward Netter Center for Community Partnerships at the University of Pennsylvania, will be honored with the fifth annual Ernest L. Boyer Award on Jan. 23 during the annual Association of American Colleges & Universities meeting in Washington, D.C.
Awarded by New American Colleges & Universities, a consortium of private, comprehensive colleges that are grounded in the liberal arts tradition, the award honors an individual who has made outstanding contributions to higher education.
Harkavy was selected for his pioneering work in university-community partnerships and the civic engagement of students and faculty. . . .
The Netter Center now focuses on two primary approaches that allow Penn to connect with the West Philadelphia community: academically based community service courses and university-assisted community school partnerships.
Academically based community service courses are a form of service learning that's focused on real world problem solving, such as those related to poverty, education and health care. These integrate learning, community service, teaching and research. . . .
After receiving his award, Harkavy will present a lecture on "Creating the Connected Institution: Toward Realizing Benjamin Franklin's and Ernest Boyer's Revolutionary Vision for American Higher Education."
Read more about the Boyer Award (including a list of past winners) at the NAC&U website. Read the complete Penn release here.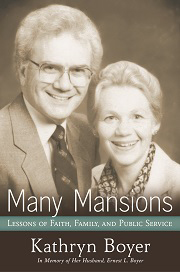 The life of Ernest L. Boyer '48, a man whose career in public service has had a profound effect on quality education in America at every level, is now honored in his wife's memoir, "Many Mansions: Lessons of Faith, Family, and Public Service." Kathyrn Boyer's memoir was released May 29, 2014 at a private reception attended by the Boyer family and hosted at Messiah College by President Kim Phipps and the Ernest L. Boyer Center. "Ernie's dedication and accomplishments on behalf of the education of our world's children was enriched by Kay's significant influence and imprint," said President Phipps. The Boyers, who met as students at Messiah Bible School, traveled extensively and moved 20 times to fulfill Ernie's roles as Chancellor of the State University of New York, United States Commissioner of Education and President of the Carnegie Foundation for the Advancement of Teaching. In her memoir, Kay details the challenges and joys that came with the balancing act of faith, family and public service. "This personal story of the family life of Ernest Boyer will be very valuable to all Americans who are interested in quality education in our country," said Jimmy Carter, 39th president of the United States and 2002 Nobel Peace Prize winner. "His extraordinary contributions in the highest levels of government and academic service have been a blessing to millions of students and other educators." Kay, a certified midwife and past president of the American College of Nurse-Midwives Foundation (1984-89) writes in the memoir, "I was called to be an advocate on behalf of children preparing to enter the world. Ernie was called to provide those children with ways by which they could take their place as rightful leaders in society." "Many Mansions: Lessons of Faith, Family, and Public Service" is published by Abilene Christian University Press. Judith and Bill Moyers of Public Affairs Television wrote, "More than a memoir, her story of the life and work they shared during a dynamic period in the shaping of American public education is an invaluable contribution to our understanding of the times. Together they created a partnership of faithful living and service that inspires to this day."
"Many Mansions" can be purchased directly from the publisher at www.acupressbooks.com.