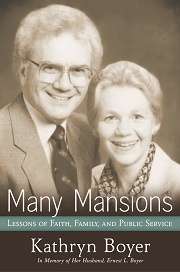 The life of Ernest L. Boyer '48, a man whose career in public service has had a profound effect on quality education in America at every level, is now honored in his wife's memoir, "Many Mansions: Lessons of Faith, Family, and Public Service." Kathyrn Boyer's memoir was released May 29, 2014 at a private reception attended by the Boyer family and hosted at Messiah College by President Kim Phipps and the Ernest L. Boyer Center. "Ernie's dedication and accomplishments on behalf of the education of our world's children was enriched by Kay's significant influence and imprint," said President Phipps. The Boyers, who met as students at Messiah Bible School, traveled extensively and moved 20 times to fulfill Ernie's roles as Chancellor of the State University of New York, United States Commissioner of Education and President of the Carnegie Foundation for the Advancement of Teaching. In her memoir, Kay details the challenges and joys that came with the balancing act of faith, family and public service. "This personal story of the family life of Ernest Boyer will be very valuable to all Americans who are interested in quality education in our country," said Jimmy Carter, 39th president of the United States and 2002 Nobel Peace Prize winner. "His extraordinary contributions in the highest levels of government and academic service have been a blessing to millions of students and other educators." Kay, a certified midwife and past president of the American College of Nurse-Midwives Foundation (1984-89) writes in the memoir, "I was called to be an advocate on behalf of children preparing to enter the world. Ernie was called to provide those children with ways by which they could take their place as rightful leaders in society." "Many Mansions: Lessons of Faith, Family, and Public Service" is published by Abilene Christian University Press. Judith and Bill Moyers of Public Affairs Television wrote, "More than a memoir, her story of the life and work they shared during a dynamic period in the shaping of American public education is an invaluable contribution to our understanding of the times. Together they created a partnership of faithful living and service that inspires to this day."
"Many Mansions" can be purchased directly from the publisher at www.acupressbooks.com.
Creative Calls for Coherence:
Ernest L. Boyer and Christian Higher Education
Routledge is pleased to announce the publication of a themed issue from Christian Higher Education, guest edited by Todd Ream. This noteworthy edition of the journal explores Ernest L. Boyer's considerable influence on education.
Ernest L. Boyer's creative call for coherence, or his compulsion to draw together the frayed intellectual and/or social threads defining our society, offers a powerful means of assessing his significant impact on education. Although anecdotal evidence indicates Boyer's ideas influenced a number of Christian colleges and universities, no systematic efforts come to terms with this influence. This theme issue attempts to provide some basic frameworks for further research efforts while also looking at the impact Boyer's Christian college experiences had upon him.
The first half of this issue seeks to introduce Boyer's life, his faith, and the influence of Christian higher education on him. The second half of this issue is topical in nature and explores Boyer's influence on some critical dimensions of the lives of Christian colleges and universities. To explore this special issue, please visit: http://www.tandfonline.com/toc/uche20/13/1
Christian Higher Education is a peer-reviewed archival journal that features articles on developments being created and tested by those engaged in the study and practice of Christian higher education. This journal addresses issues in finance, enrollment management, innovative teaching methods, higher education administration, program assessment, faculty development, curriculum development, and student services. Each issue offers a balance of essays on current research as well as programs and methods at the cutting edge of progress. For more information, visit: http://tandf.msgfocus.com/c/13zNViq9F3HN9kxTQqP3WPNlk9
Christian Higher Education
Editors-in-Chief:
Karen A. Longman & Laurie A. Schreiner
Both of Azusa Pacific University
Guest Editor:
Todd Ream
Taylor University
Publication Details:
Volume 13, 2014
5 issues per year
Print ISSN
Online ISSN