Sustainability Studies (B.A.)
Sustainability Studies (B.A.)
Are you interested in how sustainable practices affect people in communities? Are you ready to engage the future by being a part of Messiah's more than 40 year history of resource stewardship and creation care?

Messiah's interdepartmental sustainability studies major is built upon a holistic approach that emphasizes the social, ecological and economic aspects of sustainable human communities. From the cultivation of the Grantham Community Garden to internship opportunities with organizations such as Mennonite Central Committee and ECHO (Educational Concerns for Hunger Organization) that can take you around the world, you won't just learn about sustainability, you'll live it.
In addition to learning intensive propagation techniques in the community garden, Messiah has a state-of-the-art greenhouse and environmental labs which are home to projects in institutional composting, aquaponics, aquaculture, hydroponics and biodiesel production. Beyond the Grantham campus, you might choose to live in Harrisburg to become involved in community development projects within an urban environment.
You'll have the opportunity to work alongside Messiah faculty, conducting research in sustainable agriculture, urban food production, plant ecology, using forests as food production permacultures and more. As a graduate in sustainability studies, you'll be well-equipped to engage in political service, public policy, law, sustainable agriculture or Christian service.
As a sustainability studies major at Messiah College, you'll be able to:
Gain hands-on experience in ecological and urban restoration
Gain practical training in applied sustainable agriculture working in the campus garden
Immerse yourself in planning for and achieving energy savings for the campus physical plant and for carbon management
Get involved in sourcing and resource recovery opportunities for local industries

Choose from many internship opportunities, including the Nature Conservancy, Mennonite Central Committee (MCC), A Rocha International, ECHO, and local organic farms for produce and beef

Utilize a geographic information system (GIS) in the student computer lab
Choose from several student clubs/organizations including Earthkeepers, the Restoration House and the Pennsylvania Association of Environmental Professionals
Major requirements:

Choose from the following concentrations:
Minor requirements: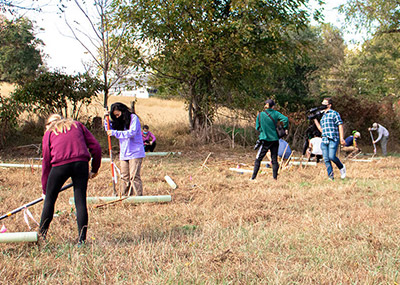 Messiah College is one of only 11 colleges in the nation to offer a bachelor of the arts in sustainability studies.
Learn more about the departments and faculty in this major: