Is a three year or accelerated program right for me?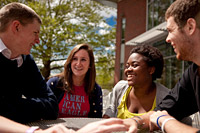 Of course your Messiah College education is much richer than simply earning credits towards a degree. Your years at Messiah will be filled with life-changing learning and relationships that will open up amazing possibilities and help you see your life and the world in a whole new way. So while graduating early can certainly save you time and money, it's also important to explore upfront whether or not this option is right for you, is viable for your major, and will best serve your personal education and career goals.
For instance, here are some key questions to consider:
Are you entering Messiah knowing which specific major you want to pursue?
Does your major lend itself to an accelerated degree opportunity?
Are you a motivated student with the academic capacity to pursue a rigorous accelerated degree path?
Will your extra-curricular commitments enable you to take a full credit load each semester?
Are you willing to take courses during the summer months?
For more information:
If you have questions or would like more information about pursuing an accelerated graduation opportunity, please contact Jim Sotherden, College Registrar (717.691.6074 or JSotherd@messiah.edu) or Robin Lauermann, Assistant Dean of General Education and Common Learning/General Education, (717.766.2511, ext. 2410) or Rlauerma@messiah.edu)