---
To increase hope and transform lives through collaborative and multi-disciplinary projects.
Our Mission
---
To foster justice, empower the poor, promote peace and care for the earth through applications of our academic and professional disciplines.
To increase the academic and professional abilities of participants, their vocational vision for lifelong servant-leadership and their courage to act on convictions.
Our Identity
---
The Collaboratory for Strategic Partnerships and Applied Research is a center for service, scholarship, and project-based learning at Messiah College that enables participants to apply academic knowledge and live out their Christian faith through imaginative, hands-on problem solving with non-profit organizations, governments, and business partners in our region and around the world.
Partners of the Collaboratory invest in the educational mission of the College through their interactions with students, and we produce professional and sustainable results for them by leveraging long-term partnerships and inter-generational volunteerism that enables projects to span multiple generations of students. Collaboratory projects enable students to engage classroom fundamentals in an authentic client-centered environment. Students lead and manage the Collaboratory in partnership with the educators and volunteer professionals who mentor them.
We are Christians who aspire to obey the instructions of our Lord and Savior Jesus Christ to love neighbors as ourselves and to share his good news in life, word, sign, and deed. As God enables us to serve others today, we seek to grow as disciples of our Lord and Savior Jesus Christ, serve as God's stewards over the resources of our academic disciplines, and bear witness to the good news of the Kingdom of God.
We believe that all people are valued and loved by God, regardless of race, color, religion, gender, national origin, ancestry, age, disability, medical condition, genetic information, veteran status, marital status, pregnancy, sexual orientation, or any other such characteristic.
We follow all federal, state and local laws governing access and discrimination avoidance in the operation of our programs and services. Students attending the College and join the the Collaboratory are not required to be Christian, but all students and employees of the College and Collaboratory are expected to respect and honor the Community Covenant.
The Collaboratory engages frequently with partner staff and beneficiaries from various worldviews and faith backgrounds. We do not demand that people hear any faith-based message or adhere to Christian principles before, during or after receiving assistance. The Collaboratory respects the worldviews, religious beliefs, and practices in the countries where we operate and seeks mutual understanding with all people.
Core Values
---
Dokimoi Ergatai
is a Greek phrase that means "Approved Workers." It is taken from 2 Timothy 2:15: "Do your best to present yourself to God as one approved, a worker who does not need to be ashamed and who correctly handles the word of truth."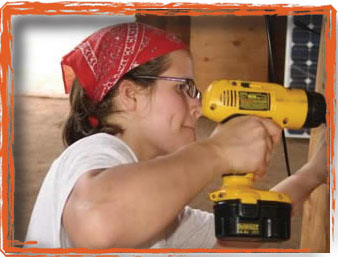 Dokimoi Ergatai
reminds us of our desire to become God's approved workers and is foundational to the following core value statements:
We share the Gospel of Christ in life, word and deed so that others may come to know him.
We foster lifelong commitments to Christian vocation and servant-leadership through peer and advisor mentoring and discipleship to Christ.
We integrate our work and Christian faith by making wise use of gifts and abilities to serve the underprivileged around the world.
We demonstrate God's love through creative applications of our academic disciplines that meet human needs while valuing local culture.
We cultivate long-term partnerships with the communities we serve, to gain deep understanding and achieve sustainable results.
Strategic Committments
---
Our projects are academically and professionally challenging, and they enable students to express Christian faith and value commitments through excellence in their academic discipline.

Our students share project leadership and administration responsibilities with educators, and learn by seeing their teachers in action.
Our educators connect their scholarship directly to student learning by making hands-on professional contributions to projects as mentors and members of project teams.

Our Christian discipleship intentionally reflects on learning experiences, to sharpen vocational vision, foster servant-leadership, and nurture courage to act on convictions.

Our project teams include students from multiple years of study for increased peer mentoring.

We include multiple academic disciplines and partner organizations with their various modes of thinking and analysis for comprehensive outcomes.

We are committed to projects that can span multiple generations of students to attain tangible and sustainable results.

We integrate Collaboratory programming into curricula, to increase both participation and academic engagement by connecting Collaboratory work to faculty and student loads.