The Basic School Network
The Basic School . . . A Community for Learning
" ... the challenge to school renewal cuts across all social and economic factors. What is needed . . . is a new vision of elementary education, a comprehensive plan that makes available to every child, school practices that really work. "
-Dr. Ernest Boyer
The Basic School Network connects over one hundred schools committed to the Basic School vision. This national network comprises four regional centers that provide professional development and annual conferences/seminars related to the four priorities of the Basic School: the school as community, a curriculum with coherence, a climate for learning, and a commitment to character. By sharing information and practices, schools that have successfully incorporated Basic School principles inspire other schools to do the same. The Boyer Center provides a "virtual hub" for the Basic School Network, offering a place where interested educators can easily access research and data, as well as find people with whom to share ideas.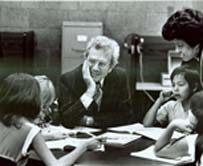 Ernest L. Boyer, Education Commissioner in a Minneapolis school, 1977.