About Ernest L. Boyer
Ernest L. Boyer, Sr., (1928-1995) was an educational leader who most notably served as Chancellor of the State University of New York, United States Commissioner of Education, and President of the Carnegie Foundation for the Advancement of Teaching. Dr. Boyer's intellectual leadership shaped the nation's education agenda through his tireless advocacy and authorship of a number of influential reports. He believed that the fulfillment of a just society is inextricably linked with an excellent education that promotes intellectual clarity, creativity, global awareness, social responsibility, and a deep sense of purpose. Dr. Boyer held the strong conviction that individuals who embody these qualities offer our best hope for serving our common humanity.
In recent years, a number of texts have explored the enduring influence of Boyer's ideas on higher education. These texts, which include Ernest L. Boyer: Hope for Today's University (SUNY Press, 2015) and Scholarship Reconsidered: A 25th Anniversary Edition (Jossey Bass, October 2015), make evident how relevant and inspiring Boyer's work is as change is navigated in the days ahead. Further, recent publications have explored the theological foundations of Boyer's ideas, including a special edition of the International Journal of Christian Higher Education that considered how deeply Boyer's faith permeated his work and shaped the scope of his public vision.
Ernest Boyer was a hero of mine. As a leader in higher education, he believed that every student experience offered opportunities to add value to their education. Through the Ernest L. Boyer Center, we can keep Boyer's legacy alive for the next generation of educators.
-William McDonald, Vice President for Student Affairs, Presbyterian College, Editor, Creating Campus Community: In Search of Boyer's Legacy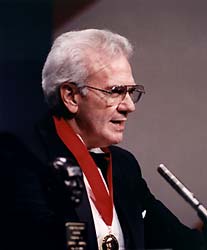 Ernest L. Boyer, Sr.
A Leader of Educators, An Educator of Leaders
1928 - 1995