About Ernest L. Boyer
The Ernest L. Boyer Center takes its highest ideals from its namesake, Dr. Ernest L. Boyer, Sr., who was commissioner of education under President Jimmy Carter and served for 16 years as president of the Carnegie Foundation for the Advancement of Teaching. A Messiah College graduate and arguably one of the most influential American educators of the 20th century, Dr. Boyer believed that the fulfillment of a just society is inextricably linked with an excellent education that promotes intellectual clarity, creative thinking, global awareness, and coherent communication. Dr. Boyer held the deep conviction that individuals who embody these qualities offer our best hope for serving our common humanity. Boyer also believed that excellent education cultivates habits of mind that value hospitality, civic responsibility, and the highest ideals of humankind, including a sense of the sacred.
Ernest Boyer was a hero of mine. As a leader in higher education, he believed that every student experience offered opportunities to add value to their education. Through the Ernest L. Boyer Center, we can keep Boyer's legacy alive for the next generation of educators.
-William McDonald, Vice President for Student Affairs, Presbyterian College, Editor, Creating Campus Community: In Search of Boyer's Legacy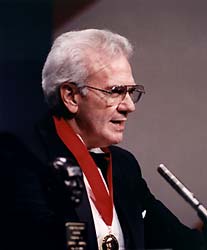 Ernest L. Boyer, Sr.
A Leader of Educators, An Educator of Leaders
1928 - 1995