Lost Films
All films cost $2 for students and $4 for guests.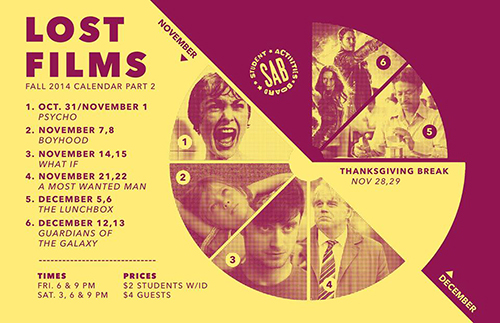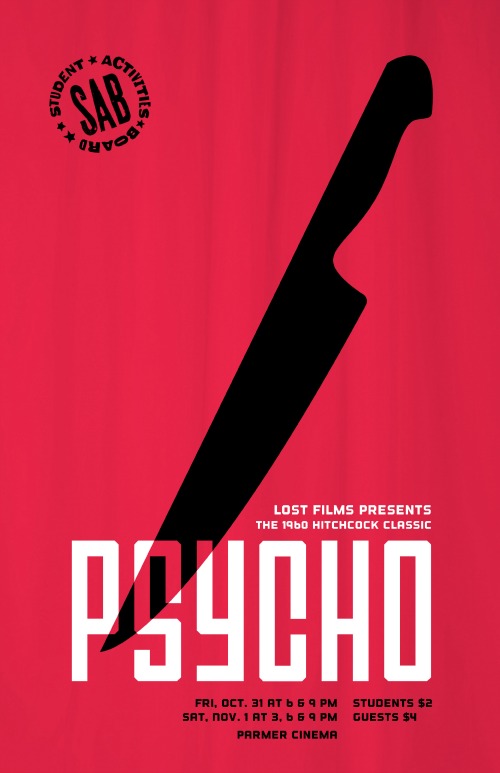 In 1960, Alfred Hitchcock was already famous as the screen's master of suspense (and perhaps the best-known film director in the world) when he released Psycho and forever changed the shape and tone of the screen thriller. Marion Crane is unhappy in her job at a Phoenix, Arizona real estate office and frustrated in her romance with hardware store manager Sam Loomis. One afternoon, Marion is given $40,000 in cash to be deposited in the bank. Minutes later, impulse has taken over and Marion takes off with the cash, hoping to leave Phoenix for good and start a new life with her purloined nest egg. 36 hours later, paranoia and exhaustion have started to set in, and Marion decides to stop for the night at the Bates Motel, where nervous but personable innkeeper Norman Bates cheerfully mentions that she's the first guest in weeks, before he regales her with curious stories about his mother. There's hardly a film fan alive who doesn't know what happens next, but while the shower scene is justifiably the film's most famous sequence, there are dozens of memorable bits throughout this film. Taken from Fandango
Lost Films is SAB's weekly film series, bringing everything from blockbusters to indie movies to campus for five showings every weekend. Lost Films helps to fulfill SAB's mission to explore the intersections of faith, education, and popular culture.
Showtimes for all films are Friday at 6:00 PM and 9:00 PM and Saturday at 3:00 PM, 6:00 PM, and 9:00 PM. Tickets are only available at the door before each showing. All films are shown in Parmer Cinema, located in Boyer Hall, which seats 125 and features state of the art acoustics and projection.
If you would like more information, or are interested in joining the Lost Films Committee, contact Sara Bretz.