Lost Films
All films cost $2 for students and $4 for guests.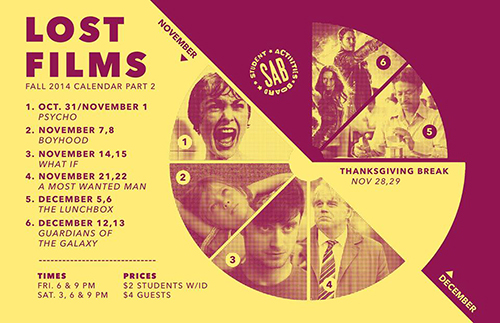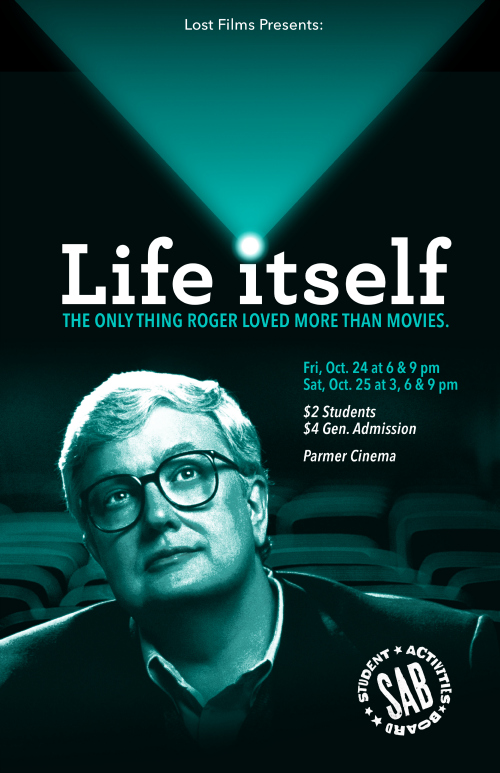 'Life Itself' recounts the surprising and entertaining life of world-renowned film critic and social commentator Roger Ebert - a story that's by turns personal, wistful, funny, painful, and transcendent. The film explores the impact and legacy of Roger Ebert's life: from his Pulitzer Prize-winning film criticism and his nearly quarter-century run with Gene Siskel on their review show, to becoming one of the country's most influential cultural voices, and finally to Roger's inspiring battles with cancer and the resulting physical disability - how he literally and symbolically put a new face on the disease and continued to be a cultural force despite it. Taken from IMDB

Lost Films is SAB's weekly film series, bringing everything from blockbusters to indie movies to campus for five showings every weekend. Lost Films helps to fulfill SAB's mission to explore the intersections of faith, education, and popular culture.
Showtimes for all films are Friday at 6:00 PM and 9:00 PM and Saturday at 3:00 PM, 6:00 PM, and 9:00 PM. Tickets are only available at the door before each showing. All films are shown in Parmer Cinema, located in Boyer Hall, which seats 125 and features state of the art acoustics and projection.
If you would like more information, or are interested in joining the Lost Films Committee, contact Sara Bretz.