School guidance counseling, medical research concerning the central nervous system, criminal psychological assessing, addictions counseling, predicting military tactics or prisoner interrogation...
What do all of these have in common?
They are careers accessible to someone who studied psychology!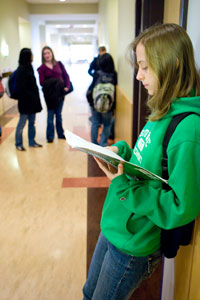 While the immediate image of a psychologist is a counselor or therapist, there are actually many career options for a graduate with a degree in psychology. Some require graduate education, while others are accessible to someone with a Bachelor's degree in psychology. If you are interested in information on what careers will be available to you after graduation, whether you plan to attend graduate school or not, follow the links below.
With a background in psychology, graduates find many opportunities in both Entry level positions and Specialty Areas. Messiah Psychology graduates are diverse in their career choices or graduate school plans after finishing their undergraduate studies here. To see the paths that Messiah's Psychology Department majors have taken over the past several years, click here; if you would like a more detailed look at a few specific graduates and what they have been doing with their respective degrees in psychology, click here.
One of the best ways to make decisions regarding your future career choice is to experience work in the field of psychology firsthand. Messiah College enables students with the ability to participate in work related to their prospective career path by offering internship opportunities in the community. Also, Messiah's Career Center is a helpful resource for every student as he or she prepares for life after graduation. The Psychology department encourages students to utilize both of these resources and to talk to the department faculty if they have any questions or want more information about career options within the field of psychology.
Click here for a helpful powepoint presentation on Careers in the Helping Professions.