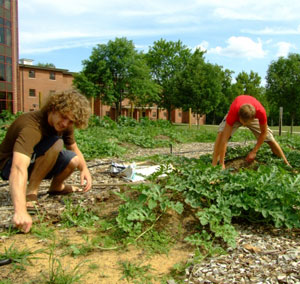 Feel a tug to get involved with sustainability work at Messiah College? There are certainly plenty of opportunities available to you, everything from getting your hands dirty in our on-campus organic garden, to learning the ins and outs of biodiesel production, to designing and implementing water filtration systems in Bolivia, to coordinating educational events for campus, to praying faithfully for the preservation of the planet.
In April 2011, Ben Lowe, author of "Green Revolution: Coming Together to Care for God's Creation,", told Messiah students during the College's annual Sustain-a-fest, "Jesus is the answer to the environmental crisis." He added, creation care efforts require prayer and a commitment to "leaving a smaller environmental footprint and a bigger environmental handprint."
So, what can you do? Well, you can join an organization of other like-minded students. You can pray. And you can do lots of things in your dorm room, in the dining hall, and in the classroom to make a big difference!