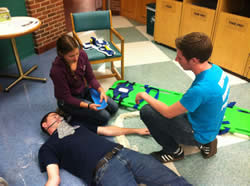 Messiah College EMS
Messiah College Emergency Medical Services is a squad of Pennsylvania State Department of Health Certified EMT's who respond to medical emergencies on the Messiah College campus. MCEMS is equipped with all the necessary supplies to provide pre-hospital basic life support to students, faculty, and guests of the College. MCEMS is committed to high quality emergency medical care which we ensure by regularly maintaining equipment and biweekly skills training of personnel.
MCEMS is always looking for new members! Anyone part of the Messiah College student body is welcome to join. While Messiah College currently does not offer a State EMT course, there are many EMT course opportunities in the Harrisburg area! Getting involved in MCEMS is a great way for students to gain medical experience before beginning a career in the medical field. MCEMS offers "ride along" opportunities, training, experience, and fun!
Contact
ems.messiah@gmail.com
Officers
Chief: Kyle Burch (SR)
Captain: Luke Murrill (JR)
Lieutenant: Jacque McNeil (JR)
Lieutenant: Zach Gibson (SO)
Find us on Facebook!