Messiah College strives to maintain compliance with Fire, Health, and Safety Codes. Please make sure you read and understand the following guidelines.
If you have any questions, please contact Valerian Curd (Fire and Safety Systems Coordinator)
E-mail: vcurd@Messiah.edu at extension 6747.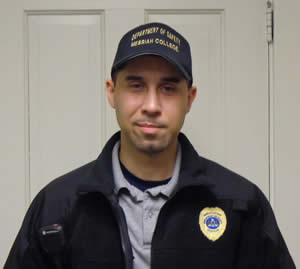 The Fire and Safety Systems Coordinator manages the oversight of fire/life safety systems for all college owned properties at the Grantham campus, including system inspections, preventative maintenance, and repairs. Serves as a campus resource for regulatory code compliance issues related to fire/life safety systems.
Campus Fire Safety Report - The Higher Education Opportunity Act (PL 110-315) became law in August 2008, requiring all United States academic institutions to produce an annual fire safety report outlining the fire safety practices, standards, and all fire-related on-campus housing statistics. The following public disclosure report details all information required by this law as it relates to Messiah College.
Campus Fire Log - Messiah maintains a log of fires that have occurred in on-campus student housing in accordance with federal regulations (34 CFR §688.49).
Emergency and Fire Drill Evacuation Procedures - Students - Procedures for Evacuation during a fire alarm/emergency.
Get Out and Stay Alive - Guide for Colleges and Universities published by FEMA
Event setups - Information pertaining to event setups and what is not allowed.
Fire Alarm Response - Faculty/Staff - Fire Alarm instructions for faculty/staff during a fire alarm
Emergency and Fire Drill Evacuation Procedures - Procedures for all students/staff/faculty for emergency and fire drill evacuations
Door Stop Guidelines- Guidelines on the proper use of Door Stops
Charcoal Grilling - Campus policy on the use of charcoal grills on campus (including satellite housing)
Safety and Decorating Guidelines - Safety and Decorating guidelines for all students/staff/faculty
Tiki Torches - Policy on the use of tiki torches
Bonfire/Campfire Policy/Form - Policy and form on the setup of Bonfires and Campfires
Personalizing Rooms - Students - Guidelines for personalizing dorm/residence rooms
How to Prepare for an Annual Fire Safety Inspection - Letter from the Upper Allen Township Fire Marshall