Welcome to the Department of Safety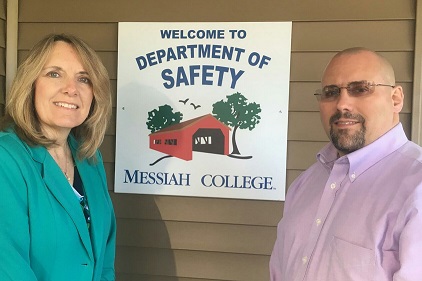 The Department of Safety and Dispatch Services welcomes you to Messiah College. The Department's goal is to provide a safe and secure environment and places a high priority on the personal well-being of all students, staff, faculty, and visitors. In support of this commitment, the Department is dedicated to providing a protective campus environment through the delivery of quality, professional security services.
The Department is an integral part of campus life and officers/dispatchers are on duty 24 hours a day, 7 days a week year round. The Safety staff is trained to respond to many types of situations including, calls for assistance and emergencies such as fire, medical calls and criminal activity. We work closely with local law enforcement agencies, fire departments and emergency medical service personnel.
The Department of Safety and Dispatch Services can only be effective in maintaining safety and security on campus if we have the cooperation and assistance of all members of the campus community. As such, safety and security must be a collaborative effort; with community involvement, successful prevention of crime occurs. To aid in crime prevention and to develop and maintain positive communication, trust and mutual understanding and respect between students and Safety, we encourage student-Safety interaction and partnerships.
We encourage you to join in our efforts to provide a safe and healthy environment for you. We wish you a safe and enjoyable visit and successful educational experience here at Messiah College.
Regards,
Cindy L. Burger Lynn Maynard
Director of Investigations, Director of Safety &
Compliance & Training Administrative Services