What happens after I graduate from Messiah?
Most of our graduates go on to be teachers in public and private schools where they have the opportunity to further their education on the graduate level. Some of our students pursue graduate degrees to teach at the undergraduate and/or graduate level. Other students decide to pursue careers outside of teaching and find that the principles they have learned in education serve them well as they work in other careers that they find better suited to their personality, lifestyle, and calling.
Find out what some of our recent Messiah alumni have been up to!
---
Jean Ashton, Class of '13
After graduating from Messiah, I was hired as a sixth grade math teacher with the South Western School District at Emory H. Markle Intermediate School. South Western is my home school district, and it's great to be teaching with some of the teachers that taught me while I was a student there. As a first year teacher, I spend a lot of time working on lesson planning and classroom organization, but it's important to make time for other activities not related to school. When I am not teaching I enjoy spending time with my family and friends. I also like to read for fun, watch movies, travel to the beach, and spend time outside with my dog, Sophie.
Messiah faculty work with students to help them find that perfect major no matter how many times they change their mind. I was fortunate enough to have supportive advisors and faculty helping me throughout my four years at Messiah, until I found my calling, middle level education (grades 4-8) with concentrations in math and social studies. My professors and advisors helped me to grow both in my knowledge of education but also in my faith. They were open to my thoughts and ideas and never made me feel as if I was just a number. They created rigorous courses that challenged me to become a better educator, and I thank them for that. The Department of Education truly prepares teachers for life as educators, and I would not have made it this far without the preparation and education I received at Messiah College.
Words cannot describe how glad I am that I chose Messiah College for my undergraduate schooling.
---
Kari Dyrli Hermeling, Class of '06 and '13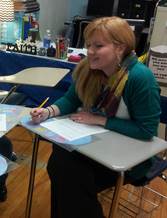 One attribute that has drawn my family to Messiah College for many years is its rigorous academics and commitment to deepening Christian faith. The most influential part of my undergraduate years at Messiah was the international and multicultural experience. Messiah led me through four different countries including a semester in Ecuador, a J-term in Zambia, and a spring break in Guatemala.
The foundation that I built as an education student at Messiah prepared me for the seven years I spent teaching and living in urban areas. During those years of teaching almost every subject in grades 5-8, I was consistently drawn to immigrant students and their families both in my classroom and in my community. I saw the addition of a TESOL M. Ed. degree at Messiah as the perfect opportunity to continue the learning I had started almost 10 years earlier. I was pleased to realize the same emphases on cultural navigation, stewardship, and peace-building were woven into the graduate program as they had been in my undergraduate experience.
Most recently, the continued support of faculty and my ongoing participation in the academic TESOL community have led me to give back a portion of all I've received from Messiah as an adjunct instructor. I see Messiah as a rare place that prioritizes this balance between deepening faith while sharpening an intellect that is relevant and applicable to our broken world. Messiah College's commitment to these pillars has inspired me to proudly complete two degrees there and now serve as an adjunct instructor, a position through which I can continue to foster the balance of faith and intellect in my own life and in the lives of students.
I cherish the mentoring I received at Messiah both as an undergraduate and graduate student, and count it a blessing to be invited to contribute to providing that same guidance for current students.
---
Luke Redding, Class of '13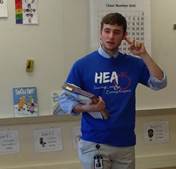 After graduating from Messiah College, I was hired by the Harrisburg School District. I am a 2nd grade teacher at Downey Elementary. When I'm not teaching I can be found traveling and hiking; playing and teaching piano; working with technology; and detailing cars.
Messiah has impacted my life in many ways. Messiah has taught me to always serve and give to others in need. Messiah has taught me about the true meaning of community. In a community we must work together as a team to build each other up and lead each other. I have truly been molded through my experiences at Messiah, the Department of Education, and Teacher Education Program.
I am forever grateful for the time, mentorship, and direction my professors and staff at Messiah have provided me to see that I succeed.
---
Emily Gerlach, Class of '13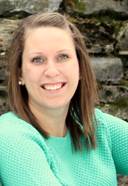 After graduating from Messiah, I was hired with the Lancaster Lebanon Intermediate Unit 13 to teach autistic support. One unique aspect about my position is that I am based in Warwick School District, but I have students in my class from four different school districts. I have students in second through sixth grade graders in my classroom, so I cover a lot of different content based on each individual student.
Outside of teaching and being in the classroom, I enjoy working out, reading, outdoor activities, and spending time with my family and friends.
My time at Messiah has impacted my life in many ways, from growth spiritually to learning what it means to be an educator. Specifically the professors in the Department of Education taught me a lot about what it means to be a Christian educator and how I can be set apart in my teaching because of my relationship with Christ. During my time at Messiah I was blessed with multiple opportunities to travel and to be involved in different activities on campus. All of those experiences forced me to learn about myself, and to really establish my worldview and personal beliefs.
I am so thankful for the time I had at Messiah and the time and effort of those who contributed to my preparation to become an educator.