Nutrition & Allergies
Welcome to the Dining Services Nutrition & Allergies Information Page! We are excited to introduce NetNutrition® to assist you with nutritional data. NetNutrition® is a program designed to:
View daily menus
Identify and select well-balanced meals
View the nutritional content and ingredients of your selections
Filter out foods containing allergens and/or intolerances
How to Use NetNutrition® to Manage Your Food Allergy
How to Use NetNutrition® Preferences
How to Use NetNutrition® in Meal Planning
NetNutrition® Miscellaneous Information
Healthy Eating in College - Yes, it can be done!
We want you to stay healthy during your college years. Eating right is an important step. Here are some tips!
NetNutrition® provides nutrition data for the foods we serve on campus
Focus on nutrient dense foods such as fruits, vegetables and whole grains
Keep portion size in mind and make half your plate fruits and vegetables
Drink water or unsweetened beverages instead of high empty calorie sugar-sweetened beverages
Check out the USDA's Dietary Guidelines
Review these helpful handouts
The Culinary Team at Messiah College takes great care to provide healthy, balanced eating options in all our dining facilities. Make the choices that best work for you! Please click on the topics below to read more about how we can assist you with your dining experience at Messiah College.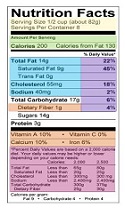 Click the above to learn more about reading and understanding the nutrition fact labels
Ordering an Allergen-Free Meal
Nutritional Content & Information