Welcome to Dining Services!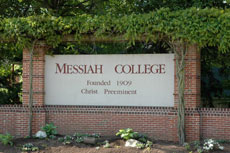 Welcome to a new academic year at Messiah College. On behalf of the entire Dining Services Team, I would like to thank you for visiting us at the Lottie Nelson Dining Room, The Falcon, the Union Café and the Café Diem. Our commitment to you begins with providing fresh, flavorful, attractive and wholesome foods, while demonstrating excellence in hospitality. Our award-winning program has been the repeated recipient of several National Association of College and University Food Services Loyal E. Horton Awards and the PA Restaurant and Lodging Association Food Safety Award.
We hope you enjoy our Dining Services site. While visiting here, you will find our menus, nutritional information--including special dietary needs, catering, hours of operation, sustainability partnerships and much more. Be sure to check out the What's Cookin' section for the latest news and upcoming events. If you have any questions, please feel free to contact us by selecting the Feedback tab and filling out the comment card.
We look forward to serving you!
Mark Wirtz
Director of Dining Services
Messiah College