Welcome Messiah College Students, Parents, Faculty, Staff & Guests!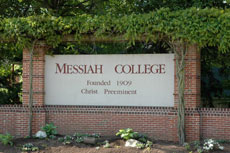 Messiah College Dining's commitment to you begins with providing a wide variety of great-tasting, nutritious, wholesome foods, and an enjoyable environment to socialize, learn, and interact while demonstrating excellence in hospitality. Our award-winning program is led by a dedicated team of talented professionals and supported by over 400 outstanding Messiah College student associates! Please take a look around our website; it offers locations, hours, menus, on-line ordering, meal plan information, sustainability information, nutritional and allergen details, special events, FAQs, catering services, and much more. More importantly, we look forward to seeing you in our restaurants, coffee shop, and at our table!
Exciting News! The Lottie Nelson Dining Hall is adding 200 seats. The dining room construction and expansion project began in July 2015, with an expected completion date of March 2016. This brand new additional space in Lottie will greatly enhance the dining experience for all our students, faculty, staff and guests!
We are available any time to answer questions, provide nutritional guidance, and to make your experience enjoyable. If you have questions or suggestions, feel free to email us at dining@messiah.edu.
Again, welcome and enjoy our amazing foods and services!
Mark Wirtz
Director of Dining Services
Messiah College