Humanities Scholars Program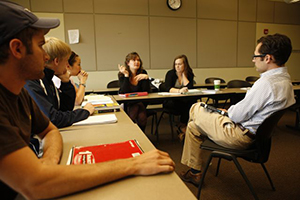 The Messiah College Humanities Scholars Program strengthens student understanding of the relationship between Christian faith and learning in the humanities, and deepens students' ability to translate knowledge and skills developed in Humanities disciplines into productive lives of leadership and service after college.
Scholarship Details
Each year, 10 Dean's Scholarships in the Humanities are awarded to accomplished, incoming students majoring in any field associated with the School of the Humanities. These include majors in the following departments: Biblical & Religious Studies, Communication, English, History, Modern Languages, Philosophy, and Politics & International Relations.
These $2,500 scholarships are renewable for the subsequent three years that you are matriculated at Messiah College, for a possible total $10,000 scholarship. Additionally, this scholarship may be combined with the Provost's and Amigo Scholarships, but not with other merit scholarships at Messiah College.
Eligibility Criteria
Any new first year or transfer student accepted to Messiah College with a declared major associated with the School of the Humanities may apply for this scholarship program. For an application form and more information about the application process, please click here. Priority application deadline is February 1, 2014.
Scholarship Renewal
Humanities scholarships are renewable for up to three years provided you:
remain a Messiah College student
maintain a 2.8 GPA as a first year student, and a 3.0 GPA as a sophomore, junior or senior
retain and make reasonable progress toward a primary or secondary major in the Humanities (separate from the standard of Satisfactory Academic Progress published by the Financial Aid Office and required to maintain eligibility for other forms of financial aid)
Humanities Scholarship Programming
As a First Year Student, you will:
take a two-day field trip/seminar emphasizing the integration of faith and learning, as well as receive a copy of a faculty authored book
have lunch with a Distinguished Professor from the School of the Humanities to discuss the relationship between Christian faith and the Humanities
attend a dinner with the keynote speaker for the annual Humanities Symposium in February
As a Second, Third, and Fourth Year Student, you will:
lead and serve in the School of the Humanities by participating on the Dean's Student Advisory Council, serving as an intern for the Center for Public Humanities, or working as a recruitment diplomat for your department
engage with a School of the Humanities alumni mentor who, through the next three years, will help you connect learning in the Humanities with potential careers and/or Christian service following graduation