Welcome to the Engle Center for Counseling and Health Services
The staff of the Engle Center know that taking good care of your physical health and your emotional wellbeing is a vital component of helping you to make the most of your time at college and our medical and counseling professionals are available to provide the support you need!
Location

We are located next to the Larsen Student Union and our offices are open Monday through Friday 8:00am to 5:00pm. (See map of our campus location.)

For resources and additional information about what we offer use the navigation links to the left and above to visit the Health Services or Counseling Services area of the website as well our Parent Resources, Educator Resources and Wellness Program areas.
Wellness must be a prerequisite to all else. Students cannot be intellectually proficient if they are physically and psychologically unwell.

Ernest Boyer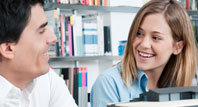 Health insurance is mandatory for all students
Students who do not waive the student health insurance EVERY YEAR and provide proof of private health care insurance will be automatically enrolled in the school's student health insurance plan.
Which Health Insurance Do I Need?