Information for Students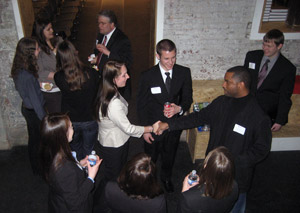 During your time at Messiah College, it's critical to take advantage of opportunities to explore and test drive potential career areas of interest. In addition, building relationships with professionals with whom you share interests will maximize your job search opportunities when that time comes. The Link is designed to help you make these connections and informed decisions, along with providing you real world insight into today's workplace. Take on the challenge, and you'll see that these professionals are eager to assist you!
For a list of opportunities to connect with alumni, parents and friends of the College, click here.
View stories and testimonials from students who have participated in these opportunities.
Outcomes and Benefits for Students
Learn about and gain exposure to careers from a real world perspective
Acquire information on generally desired skills, qualifications, and experiences of successful job candidates from a professional in their field of interest
Practice and increase confidence in the essential skills of networking and relationship building
Observe the transferability of a Messiah College education to the work place
Engage in conversation about integration of faith in work place
Potentially learn about internship and employment opportunities