Info for Alumni / Parents
Information for Messiah College Alumni/Parents/Friends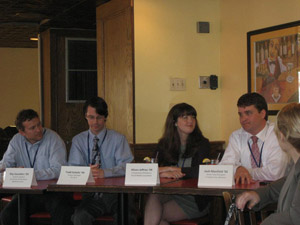 Think back to your college years. Choosing a major, exploring careers, job searching, applying to graduate school. There are many decisions that can be quite overwhelming to students, especially in a competitive and challenging economy. Who influenced your career decision making?
Consider making an impact on the lives of Messiah College students by serving as a point of connection in their career development journey. There are several ways to do this - some with very little contact or time commitment, and others that provide a hands-on way to share your experience with students. Either way, it makes a difference and meets a critical need of the next generation of graduates.
For a list of opportunities to connect with Messiah College students, click here.
View stories and testimonials from past participants.
Outcomes and Benefits for Alumni/Parents
Making a direct impact on the personal and professional development of Messiah College students.
Learning about what's happening at Messiah College through the lens of a student's experience.
Connecting with potential recruits for internships, volunteer, or employment opportunities.
Branding and enhancing their organizations by connecting with high quality, service-minded, top-talent candidates.
Reconnecting with Messiah College alumni, faculty, administration, and staff.
Developing professionally through sharing experience, expertise, and feedback on topics of interest.
Expanding your own network of professional contacts.