ID Cards
"Friendly Service, Pleasant Atmosphere, Unparalleled Convenience"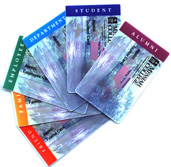 The Falcon Card is a multi-purpose card which is administered by an identification and access system. The Falcon Card is your official means of identification while at Messiah. In addition to your photo, your ID card can be used to take advantage of various resources on campus. Depending on the privileges you are granted whether a student, employee, alumnus, friend or family member, you may use this card as a declining balance debit account, using Falcon dollars across campus, check out books at the library, use copiers, make purchases at the Bookstore, purchase tickets and more. A complete list is provided at our
List of Card Use Locations
.
The extent in which you use your Falcon Card is up to you. By offering a wide variety of services through your card, the Falcon Exchange hopes to make your Messiah College experience as simple, and safe as possible.
The Falcon Exchange maintains the campus-wide multi-function "Falcon Card." The card is beneficial to students, faculty, staff, and others because it conveniently allows non-cash purchases at various operations across campus. This includes use at any of the campus dining facilities, the Campus Store, vending machines and copiers. In addition, the card provides photo identification and access control into many residences, residence computer labs, and academic buildings. Other functions include library material checkout, gift cards, and chapel attendance. Various cards are available for specific groups including alumni, family, retirees, conferences, and friend cards. The Falcon Exchange is located on the second floor of the Eisenhower Campus Center adjacent to the Lottie Nelson Dining Room.
Are you planning to vote in the upcoming election?
Pennsylvania voters are going to be required to show photo ID in the upcoming November election. One form of acceptable identification is a college photo ID that includes an expiration date. Please read this document for more information.
Hours of Operation:
Monday through Friday: 8:00am to 4:00pm
Contact Information:
Mailing Address:
Messiah College
One College Avenue., Suite 4516
Mechanicsburg PA 17055
Email: FalconExchange@messiah.edu
Phone: (717) 691-6004
Fax: (717) 691-2315