Welcome to the Department of Theatre and Dance

The world of performing arts has its own unique enviroment. A performance opens and there is an excitement in the air. A show closes, and for a brief time, the theatre and dance company enters a bitter-sweet sadness. The sets come down, lights are turned off, costumes return to storage. The actors and dancers are left with a bit of a hole, the place where their characters have lived for the past six weeks. We think of the next story, the new lives, the new places and movements that will come to life on the stage in a few short weeks.
As a community of Theatre and Dance artists we cultivate the stewardship of intellect and imagination in a forum for civic dialogue as we seek to understand our calling in Christ.

Mission Statement
Apply today
Learn more about how to apply to and audition for the Department of Theatre and Dance!
Learn more
---
Coming Attractions for Theatre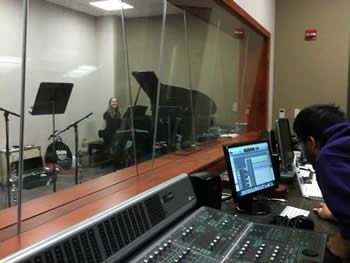 On October 20, 2013 the lights went dark on Messiah College Department of Theatre and Dance's production of J.B. This successful run showcased the talents of student and community actors, designers and technicians. What audience members may not realize is that almost every piece of music and sound in the production was written and designed by student, Ethan Eldred ('15).
Ethan writes, "I was in the right place at the right time. I couldn't have done this last year without the recording studio, and the black box was certainly an inspiration. I was surrounded by great musicians who weren't just players but in many cases were genuine collaborators with me in creating the design. Right place, right time is just another way of saying we were blessed."
Ethan's compositions were recognized with a Certificate of Merit from the Kennedy Center American College Theatre Festival after two representatives from the festival were impressed with his level of artistry. These recognitions are awarded to "truly exceptional elements in a production." Ethan called on the talents of several students in finalizing his compositions and recordings, including:
Addie Gingell - Piano
Luke Forshey - Trumpet
Eric Siegel - Saxophone
Jake Kempf - Saxophone
Audrey Springer - Flute
Leah Bergstrom - Oboe
Bekah Henry - Clarinet
Hayley Wilderotter - Bass Clarinet
Abigail Feder - Violin
Arielle Victor - Viola
Kyle Kirkpatrick - Cello and Drum Programming
Shannon Spreen - Soprano voice
Alexandria Ganeng - Mezzo-soprano voice
The cast and crew of J.B. are very thankful to have worked with Ethan - a talented artist who displayed consistent professionalism and artistry. Read More
Sub-categories of Department of Theatre and Dance