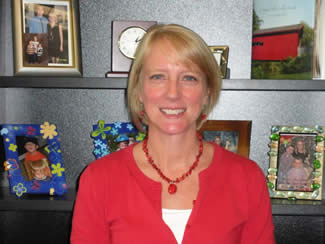 Jennifer Fisler
Professor of Education
Director of Teacher Education Program Director of Assessment
JFisler@messiah.edu
717-796-1800 x6715
B.A., Messiah College, 1994
M.Ed., Rutgers University, 1997
Ed.D., Rutgers University, 2002
Fisler Academia Information
Research:
Current Projects:
Impact of Education and Media on Beliefs About Teachers
Teacher Leadership in Schools
Recent Publications:
Fisler, J. L., Voelker, A. N., & Williams, B.M. (2009). Preparing future teacher leaders. Submitted for publication.
Courses Taught:
Educational Psychology
Instructional Design and Assessment
Advice for First-Year Students:
Spend time watching teachers and reflecting on what makes them effective then critically evaluate your own skill set and interests and see how well they line up.
Vocational Story:
I personally enjoy learning new things. I also see how knowledge and the ability to use knowledge and skills in creative ways opens up opportunities for people. In this way, I see that education has the ability to empower people to fulfill their personal callings. The opportunity to be part of that empowerment process is a great privilege of an educator.
Hobbies:
Running, reading, cheering on my children in sporting and musical events.
Favorite Quote:
To the world you may be just one person, but to one person you may be the world.
– Unknown