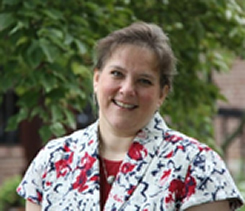 Melinda Burchard
Assistant Professor
mburchard@messiah.edu
B.A., The College of William and Mary, 1985
Human Relations
M.Ed., James Madison University, 2002
Special Education
Ph.D., George Mason University, 2010
Special Education and Teacher Education
Burchard Academia Information
Recent Research:
Pre-Service and Professional Development related to Multi-tiered Instructional Model (MTI) and Response to Intervention (RTI)
Developer of the MTISES, The Multi-tiered Instructional Self-Efficacy Scale
Effective Teaching Practices

Effectiveness of Learning Strategies for postsecondary students with and without disabilities
Current Projects:
Study the needs of college students who are academically "at-risk"
Study the gains of pre-service teachers in components of multi-tiered instruction
Consultant to middle school for math interventions for struggling students and students in special education
Recent Publications:
Burchard, M. (2014). An Analysis of evidence-based teaching practices from meta-analyses 2000 to 2014 for kindergarten through middle school. Pennsylvania Teacher Educator.
Barnes, S.K. and Burchard, M.S. (2011). Quality and utility of the Multi-tiered Instruction Self-Efficacy Scale. Research and Practice in Assessment.
Burchard, M.S. (2010). Long-term metacognitve effects of a strategic learning course for postsecondary students with and without disabilities. http://search.proquest.com/docview/288228141
Barnes, S.K. and Burchard, M.S. (2010). Developing a scale to assess self-efficacy for Response to Intervention practices in schools. Northeastern Educational Research Association Annual Conference Proceedings at http://digitalcommons.uconn.edu.
Burchard, M.S. and Swerdzewski, P. (2009). Learning effectiveness of a strategic learning course. Journal of College Reading and Learning, 40, 1, 14-34.
Courses Taught:
EDSP 307: Inclusion Practices
EDSP 397: Instructional Strategies for Students with Mild and Moderate DisabilitiesEDSP 399: Positive Behavior Support for Learners with Emotional, Behavioral and Social Disabilities
GEST 041: Foundational Study Skills
Advice for First-Year Students:
Get to know yourself, your strengths, your weaknesses, and how teaching fits with WHO YOU ARE. Then use your advisor and trusted faculty to help you plan your time and academics wisely in advance.
Vocational Story :
When I was just ten-years-old, Russ stole my heart. Russ was a young neighbor with Down Syndrome. That same year, I read the book, The Family that Nobody Wanted by Helen Doss. My original plan was to change the world by adopting 12 kids with disabilities. As an adult, I did adopt, but just ONE child with autism. Johnny taught me so much and I began to teach other parents of children with disabilities, first informally, and later as a grant funded Parent Trainer. From that position, I was motivated to pursue a career as a Special Educator which I did in a high school setting, teaching students with learning disabilities and ADHD. My successes teaching strategies led to a move to coordinate a learning strategies program at a university, and to teaching opportunities in Special Education and Math Education courses in their teacher education program. Though I originally avoided the field of teaching, I have loved every opportunity to teach and am energized by my interactions with students both in and out of the classroom. Because my first venture into the field of special education was motivated by faith, it is exciting to now teach at Messiah College where this intertwining of my faith and interest in disabilities is honored.
Hobbies:
Practical responses to community needs (like book drives) and Crafts, especially for Christmas.
Favorite Quote:
Have you heard of tiny Melinda Mae,

Who ate a monstrous whale?

She thought she could,

She said she would,

So she started in right at the tail.

And everyone said, "You're much too small,"

But that didn't bother Melinda at all,

She took little bites and she chewed very slow,

Just like a little girl should...

...and eighty-nine years later she ate that whale

Because she said she would!!!
-Melinda Mae by Shel Silverstein