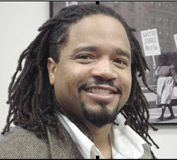 Dwayne Wright
Associate Professor
dwright@messiah.edu
B .S. in Secondary Education Mathematics from Kutztown University
M.Ed. in Secondary Education Curriculum and Instruction from Kutztown University
Ph.D in Social Foundations of Education and a certificate in Qualitative Research from the University of Georgia
Research Interests include: the History of Education with an emphasis on student activism and agency regarding education policy reforms. Much of Dwayne's work focuses on twentieth century Black history particularly during the Civil Rights, Black Power, and Hip Hop Movements. He is also a qualitative inquiry methodologist with a special interest in the areas of ethnographic research and oral history in African American communities. His current research agenda includes: African American male education: Access, attainment, and achievement; implementing an engaged learning experience in teacher education programs.
Courses Taught:
Instructional Design
Educational Psychology
Previous Work:
Dwayne taught both undergraduate and graduate courses at Cleveland State University and Shepherd University.
Personal Information:
Dwayne and his wife LaTosha have two children, Amaya and Quince. Apart from his academic pursuits, he enjoys traveling domestically and internationally, fishing, read, and spending time with family. An interesting fact about Dwayne, he and LaTosha were married on the beach in Nassau Bahamas.
Inspiration:
The elders in my family and community.