2017 Humanities Symposium
Slavery and Justice from Antiquity to the Present
The weeklong symposium will serve as an opportunity for the college and wider community to engage in meaningful interdisciplinary and cross disciplinary conversations that include but are not limited to historical forms of slavery, slavery's role in the history and formation of the Americas and our modern world, the ways these legacies continue to shape our contemporary world, ongoing forms of human bondage and local and global injustice.
The symposium is a rich dialogue across disciplines that include presentations from departments, faculty members, campus offices, community members, college alumni and student groups. Symposiums include student colloquia, film and discussion, lectures, poster sessions, multimedia presentations and artistic performances such as dance, film, music poetry, visual and virtual exhibitions and the list goes on.
Michelle Alexander: "The New Jim Crow"
Keynote Lecture
Thursday, February 23, 2017
7:00 pm, Parmer Hall
New York Times best-selling author of T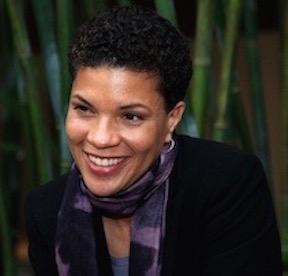 he New Jim Crow: Mass Incarceration in the Age of Colorblindness, Michelle Alexander is a highly acclaimed civil rights lawyer, advocate, and legal scholar. She currently holds a joint appointment at the Kirwan Institute for the Study of Race and Ethnicity and the Moritz College of Law at The Ohio State University. Prior to joining the Kirwan Institute, Alexander was an associate professor of law at Stanford Law School, where she directed the Civil Rights Clinics. In 2005, she won a Soros Justice Fellowship, which supported the writing of her first book, The New Jim Crow: Mass Incarceration in the Age of Colorblindness (The New Press, 2010). The book has received high praise and has been featured in national radio and television media outlets, including NPR, The Bill Moyers Journal, the Tavis Smiley Show, C-Span Washington Journal, among others.
For several years, Alexander served as the Director of the Racial Justice Project for the ACLU of Northern California, where she helped to lead a national campaign against racial profiling by law enforcement. While an associate at Saperstein, Goldstein, Demchak & Baller, she specialized in plaintiff-side class action lawsuits alleging race and gender discrimination.
Alexander is a graduate of Stanford Law School and Vanderbilt University. Following law school, she clerked for Justice Harry A. Blackmun on the United States Supreme Court, and for Chief Judge Abner Mikva on the United States Court of Appeals for the D.C. Circuit.
Information on Humanities Symposium