If you're interested teaching K-12 in public schools, the Family and Consumer Sciences Education major may be for you.
What is Family and Consumer Sciences Education?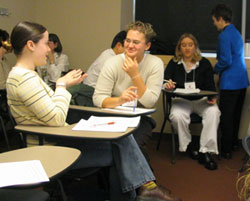 Family and Consumer Sciences educators seek to improve the decision making and practical and interpersonal skills of school-aged individuals. Educating students about family life, reasoning, relationships skills, interpersonal communication, personal nutrition, child development, human sexuality, and parenting, increases their competency in these areas and promotes their overall well-being.
Curriculum Overview
Students in this major will take courses in human development and family science, education, food and nutrition, and early childhood education. The curriculum includes at least four public school and Early Learning Center practicum / student teaching experiences through the four year program. Our major is crafted to meet the newly revised academic standards for family and consumer sciences education, assuring you the best possible preparation.
The National Association of Teacher Educators for Family and Consumer Sciences have adopted a "national standard" model of excellence for what beginning teachers in family and consumer sciences should know and be able to do. Click here to access the FCS Standards in PDF format.
Key Content Areas
Human Growth & Development
Personal Behaviors
Housing & Environment
Food & Nutrition
Apparel and Textiles
Resource Management
Specific Course Requirements
For more details on the curriculum requirements and the types of courses you would be taking as a Family and Consumer Sciences Education Major , visit our Online Course Catalog or take a look at the printable Family and Consumer Sciences Education Department Brochure.
(Course catalog and major brochure include PDF files. Click here for the Adobe® PDF Reader®)
Provisional Certified Family Life Educator Designation
Family & Consumer Sciences Education graduates are eligible to become provisionally certified as a Family Life Educator (CFLE) through the National Council on Family Relations without having to take the CFLE Exam. CFLE's incorporate a preventative and educational approach to individual and family issues. They seek to strengthen family life through a family perspective. Learn more about the CFLE Designation.
Certification Only
Students who already have a bachelor's degree from an accredited college or university can earn his/her teaching certification in Family & Consumer Sciences Education (Grades K-12). Learn more.
Questions?
Contact Dr. Raeann Hamon, the Department Chair at(717) 796-1800, ext. 2850
How to Apply
To apply for admission to Messiah College, simply call and request an application at 1-800-233-4220 or apply online! Open House dates and major-specific events are scheduled throughout the year. Students may arrange for a variety of visit options to suit their interests and schedule.