Graduation comes quickly! The eight semesters you spend at Messiah are designed to prepare you for a lifetime of Christian service related to food and nutrition. Whether your goals include nutrition care for those who are critically ill, designing community nutrition programs, providing tasty, healthy meals to schoolchildren, or managing your church kitchen, strong performance in your class work, as well as experiences gained in extracurricular activities, are important for your success after graduation.
Tips for Success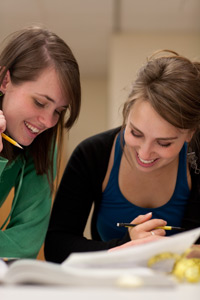 Plan ahead. Use the course planning forms provided under the tab on the left, as well as the DegreeWorks software to plan, and track your academic progress. Regularly discuss your goals, plans, and progress with your academic adviser.
Become a more self-directed learner. As you progress in college, you will be increasingly expected to ask your own questions and find your own answers. Learn to use course resources and college materials such as the college catalogue, student handbook, and the department policy and procedure manual to find answers to your questions, and practice keeping your class and advising materials well organized.
Strive to do your best work in all of your classes. Competition for nutrition-related jobs and dietetic internships is high. Your class grades will matter whether you are applying to a dietetic internship, a job, or graduate school.
Stretch your comfort zone. Get involved in off-campus activities through the Agape Center, develop leadership skills in the Student Nutrition Awareness Club, experience another culture through a cross-cultural course or study abroad program. Excellent food and nutrition service means being able to work effectively with people from a wide variety of backgrounds. Use your college years to develop your cross-cultural skills.
Document your progress. College is such a busy time that it is impossible to remember everything you have accomplished, without documentation. File course syllabi and examples of your work, as well as pictures or notes documenting your extracurricular activities. You will be glad you have done this when you need to write your resume.
Talk to faculty. One of the great advantages of a smaller college is more personal relationships among faculty and students. Use faculty office hours to discuss classwork, as well as questions you may have about the world beyond Messiah, and keep your adviser informed of your accomplishments as well as challenges.