Boyer Hall
At 95,000 square feet, with four floors above ground level, Boyer Hall is the largest academic building on Messiah's campus. This new facility houses 11 academic departments—located in the School of Business, Education and Social Sciences and the School of the Humanities—which together represent more than 50 percent of the College's curriculum, 40 percent of the faculty, and more than 40 percent of the student body.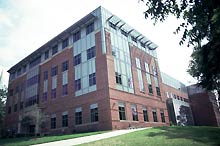 The building is named for the late Ernest L. Boyer, Sr., one of Messiah's most distinguished alumni, a former U.S. Commissioner of Education, and former president of the Carnegie Foundation for the Advancement of Teaching. Boyer Hall is also home to The Boyer Center, founded in 1997, which promotes Dr. Boyer's educational vision through special programs and initiatives that enhance school and community renewal, international education, and civic collaboration.
Specific building features that serve Messiah students and faculty in all academic departments include:
25 classroom and seminar rooms
A 140-seat lecture hall, equipped with state-of-the-art audio/visual technology
Three well-equipped student computer labs – one dedicated asa language lab, one for students majoring in education, and one for general student use
An atrium designed to provide open, well-lit study and leisure space
Seven department resource rooms
Dedicated space for the Writing and Learning Centers
Dedicated space for the Faculty Services Office
90 faculty offices
Administrative offices for the Deans of the School of Business, Education and Social Sciences and the School of the Humanities
Frey Hall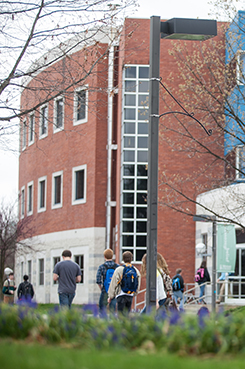 Frey Hall is the departmental home and central hub for the School of Science, Engineering and Health programs in computing, engineering, mathematics/statistics, and physics and the Collaboratory for Strategic Partnerships and Applied Research. The building was constructed in 1991, with a significant expansion that opened in 2015 and includes lab, project, and classroom space for the engineering program. The 85,000 square feet in Frey Hall also houses the departments of Management & Business, and Visual Arts, and Frey Hall is the center of the campus network infrastructure.
Frey Hall gives students and faculty access to comfortable, well-equipped, state-of-the-art classrooms, laboratories, a lecture hall, flexible project space for Collaboratory groups, and multiple informal areas with tables and chairs for individual and group study between and after classes. Students will find sophisticated laboratory and workshop areas with professional software and hardware, a computing 'sandbox' for experimental work, engineering design and analysis tools, and a physics research lab, all professionally staffed.