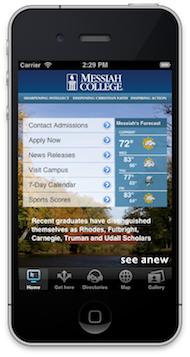 Introducing iMessiah version 2.0.1 the Messiah College Mobile App
What's New in 2.0.1?
This version is a completly 100% ground up new build, with new technologies, new functions and a fantastic new graphic layout we think you'll find pleasing.
Messiah College's mobile app, iMessiah, puts a wealth of key information and useful functionality right at your fingertips. Without ever leaving your home, you can tour our campus, schedule a visit or even apply for admission to the College directly from your smart phone.
Our home screen includes an image of one of the College's most notable icons, the covered bridge spanning the Yellow Breeches Creek, which runs through our scenic 471-acre campus. The home screen also displays a scrolling list of some of the College's most significant distinctions – the things that make a Messiah education a unique and valued experience. Our home screen is your gateway to the various, easy-to-navigate sections of iMessiah. Also displayed is the campus weather forcast so if you're planing a visit, you can bring an umbrella if you need to.
CONTACT ADMISSIONS
Maybe you'd simply like to visit our website or possibly speak directly to someone about attending Messiah College. Maybe you have some questions that you'd like to email to our admissions team. No problem. Simply tap the screen to navigate to our website, call us, or send us an email – it's that easy! One quick tap puts you in touch with our Admissions folks and they'll be glad to help answer any questions you have.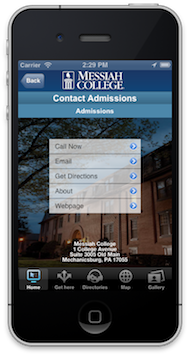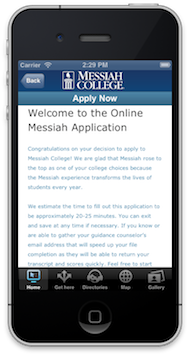 APPLY NOW
After exploring our website or speaking with our admission team, you might decide that you're ready to apply. The iMessiah app can help you with that too! We've integrated our online application so you can create an account through the "Apply Now" link, start filling out your application and then return to the application later at your convenience to complete the process from either iMessiah or from your own computer.
MESSIAH NEWS RELEASES
Want to find out the latest news at Messiah? You can check it out through iMessiah. We regularly post Messiah News and you can stay up-to-date on the latest happenings simply by refreshing iMessiah's news page whenever you want to be in-the know.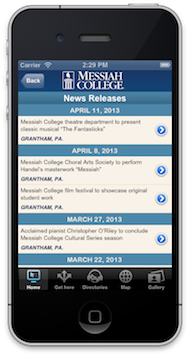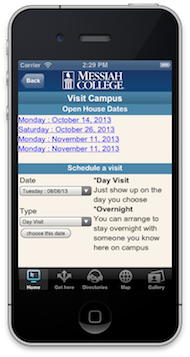 SCHEDULE A VISIT
Maybe you visited our website a few times, talked to our admission team; maybe you even started the application process - but now you'd like to schedule a visit to see the campus for yourself. Messiah College offers you this unique functionality too in our mobile app! Through iMessiah, you can choose to attend an open house or select a more personalized and customized visit. If you'd like to spend the night, we'll even arrange that for you too so that you can experience a bit of college life firsthand. This section is iMessiah's concierge for a Messiah College visit!
MESSIAH TODAY
This page provides an updated menu of the scheduled happenings on campus for the week. Events such as special lectures, concerts, demonstrations and sporting events are listed, including event times and locations. And if you want more details about an event, just tap any event item and you'll be transported to our website where you can read more details about the event.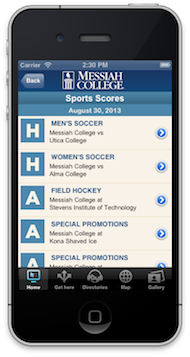 SPORTS SCORES
The excellence of Messiah athletics is widely known and maybe you're among the Falcons' faithful followers who are interested in getting the scores for Messiah's athletic competitions as quickly as possible. If so, head to this section of iMessiah and you won't be disappointed. As soon as game scores are updated you can know and you can also tap the sport's event link and be taken instantly to the GoMessiah.com website where you can read a detailed summary of each game.
GET HERE
We want to extend our hospitality to all our campus visitors by making it as convenient as possible for them not only to get here but also to get back home. So whether you're already on campus or you are headed our way, iMessiah provides you with regional airport, bus and taxi service information. All phone numbers are one-touch dial enabled too for your convenience. If you need drivign driections to a specific building ... keep reading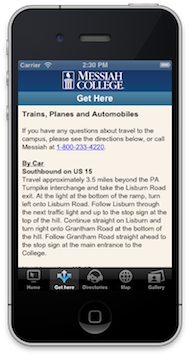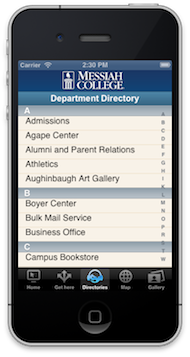 DEPARTMENT DIRECTORY
If you'd like to contact a specific Messiah College department or office, iMessiah puts these important phone numbers and extensions as well as the email and Website addresses at your finger tips. You can also access the departments facebook and twitter account if they have one, view an image and get a description of the building in which each department or office is located along with a listing of other departments and offices in that building.
CAMPUS MAP
Completely rebuilt, the campus map is now what you would expect with geo-location services.
The map in iMessiah is uniquely enabled with location data so that as you choose a building from the menu at the top, the map scrolls and pinpoints the exact building you've selected. You can also do that with all of our departments by tapping the Departments button at the top. Our map will get you around campus with ease. And if you're not on campus? Tap Driving directions and we'll get Google to draw some for you :)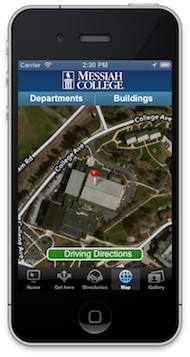 Information on iMessiah