NetVUE Regional Conference
A Vocational Anchor in a Sea of Change: The Enduring Influence of Ernest L. Boyer, Sr.
October 9-10, 2015
Messiah College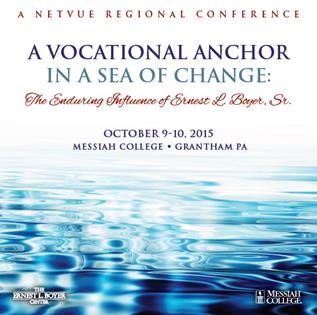 The Ernest L. Boyer Center at Messiah College is pleased to host a NetVUE regional gathering on Friday, October 9th and Saturday, October 10th.This special gathering will feature scholars and practitioners whose work addresses not only the current challenges facing higher education but also avenues for ensuring the future flourishing of colleges and universities.
Higher education today faces many consequential concerns, including declining public confidence, pervasive questions about the value of a college degree, the unbundling of the faculty role, degree compression, and declining resources. None of these concerns comes as a surprise to those serving in colleges and universities. What is often missing from the criticism surrounding higher education are more generative voices, those helping us to discern the deeper questions and to effectively navigate these turbulent times.
This gathering will turn to the work and ideals of Ernest L. Boyer Sr. as just such a generative voice. Boyer's work as well as recent scholarship regarding his ideals provides crucial insight into the deeper concerns that underlie the various critiques being directed at higher education. Today's context is both familiar to and distinct from the social and educational context of a quarter century ago when the ideals of Ernest L. Boyer Sr. helped higher education navigate a period of rapid flux. Still, the ideas and convictions of Ernest L. Boyer raised our collective consciousness as to the nature and purpose of undergraduate education and have the capacity to do so now.
This NetVUE gathering provides an opportunity to learn about Boyer's ideals and consider they help us navigate the challenges of the present in ways that keep us attentive to the college's calling to serve individual and society. We will give special attention to how his work weaves together vocational themes of faith, service, identity, connectedness, and community. While this gathering will be of interest to all who care about higher education's purpose and well-being, this gathering will be of particular interest to those responsible for faculty development, teaching and learning, general education, assessment, and community engagement as well as those interested in the theological and philosophical underpinnings of Boyer's work. Participants will gain insight regarding the deeper purposes of a college education and how to realize these ideals in various contexts.
Faculty, administrators, and co-curricular educators from NetVUE member institutions or non-member institutions are cordially invited to attend this gathering. All participants will receive a copy of the forthcoming text, At this Time and In this Place: Vocation and Higher Education (Oxford University Press, 2015) as part of their registration fee.
NetVUE registration information
Conference Schedule
Friday, Oct 9 and Saturday, Oct 10
Local hotels for NetVUE conference
NetVUE conference contact information
Information on Programs
Sub-categories of Programs