Orientation Leaders
Orientation Leaders play a vital role in the Welcome Week experience. Open to select returning students, Orientation Leaders work to ensure new students feel a connection to the Messiah community, become knowledgeable of the culture and opportunities on campus, and are equipped to succeed academically, socially, and spiritually at Messiah.
If you're interested in being an Orientation Leader, then click on the boxes to the right for access the necessary application and recommendation form.
Applications and recommendation forms for Welcome Week 2017 consideration are due by March 8, 2017.
Questions? E-mail Julie Cline, Assistant Director of Student Involvement & Leadership Programs, who oversees Welcome Week and the Orientation Leader program.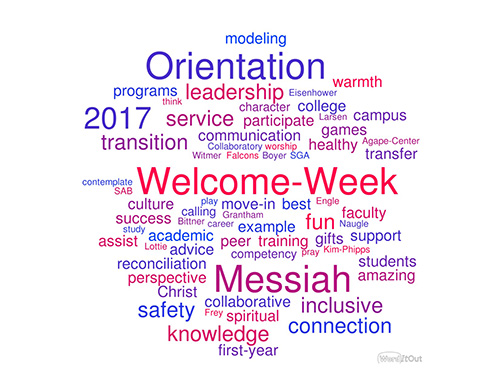 Welcome Week 2017
Welcome Week / New Student Orientation this year is from August 25 to August 28, 2017.
During Welcome Week, you'll get everything you need for a successful start to your Messiah College journey. Whether you're a first-year or transfer student, commuter or residential, Welcome Week is for all new students. So get ready to be involved in four days of events and activities meant to get you fully immersed into the Messiah College culture. Meet new people, make new friends, learn your surroundings and get to know your new home-away-from-home before classes begin on Tuesday, Aug. 29.
Get ready!
Winter Orientation 2017
Winter Orientation 2017 is for incoming students (residential and commuting) transferring in to start their journey at Messiah in the spring term. If this describes you, then this three-day orientation is designed to acclimate you to Messiah, allow you to get to know the campus, meet peers and make friends, and participate in activities meant to orient you to the college before classes begin on Jan. 30, 2017. New student check-in day is January 26, 2017.
Although the schedule for 2017 is still 'under construction', you can click on the Winter Orientation 2016 Schedule button below and see what last year's was like. The upcoming Winter Orientation is from January 26–31, 2017.