"The Social Work Program here does a really good job of helping me to see how my faith affects my identity as a social worker and how I can become both a better Christian and a better person with the social work skills I am becoming equipped with." - Ruth, '12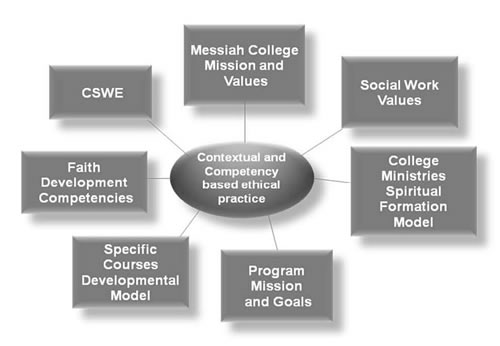 Six Core Values of Social Work
Dignity and Worth of the person:
Love must be sincere. Hate what is evil; cling to what is good. Be devoted to one another in brotherly love. Honor one another above yourselves. Never be lacking in zeal, but keep your spiritual fervor, serving the Lord. Be joyful in hope, patient in affliction, faithful in prayer. Share with God's people who are in need. Practice hospitality." -Romans 12:9-13
"Accept one another, then, just as Christ accepted you, in order to bring praise to God." -Romans 15:7
Jesus has called us to put others above ourselves and to serve those around us to the best of our ability. We are to accept those around us and to share with those who are in need. Social work allows us to do all this on a daily basis.
Importance of Human Relationships:
Matthew 22:37-39 "Jesus replied: " 'Love the Lord your God with all your heart and with all your soul and with all your mind. This is the first and greatest commandment. And the second is like it: 'Love your neighbor as yourself."
Serving:
Matthew 25:40 "The King will reply, 'I tell you the truth, whatever you did for one of the least of these brothers of mine, you did for me."
Competence:
Competence means, increasing professional knowledge and skills, as well as applying them appropriately. Competence also involves self assessment as to work only within the boundaries of your own knowledge and skills. A competent social worker can provide effective services to their clients when they are properly educated and trained. It is unethical to apply techniques that social workers have yet to acquire. As a social worker, we must remember that our ability to grow professionally and spiritually are equally important. We should continue to ask God for his help when it comes to both personal and professional growth.
2 Cor.3:5 "Not that we are competent in ourselves to claim anything for ourselves, bur our competence comes from God."
Matthew 7:7 "Ask and it will be given to you; seek and you will find; knock and the door will be opened to you. For everyone who asks receives; he who seeks finds; and to him who knocks, the door will be opened."
Pr.3:5 "Trust in the Lord with all your heart and lean not on your own understanding; in all your ways acknowledge him, and he will make your paths straight."
Social Justice:
"This is what the LORD says: Do what is just and right. Rescue from the hand of his oppressor the one who has been robbed. Do no wrong or violence to the alien, the fatherless or the widow, and do not shed innocent blood in this place." - Jeremiah 22:3
Integrity:
1 Chronicles 29:17
I know, my God, that you test the heart and are pleased with integrity. All these things have I given willingly and with honest intent. And now I have seen with joy how willingly your people who are here have given to you.
1 Timothy 3:9
They must keep hold of the deep truths of the faith with a clear conscience.