Lost Films
All films cost $2 for students and $4 for guests.
Come check out "Ant-Man" Dec 11-12th, 2015!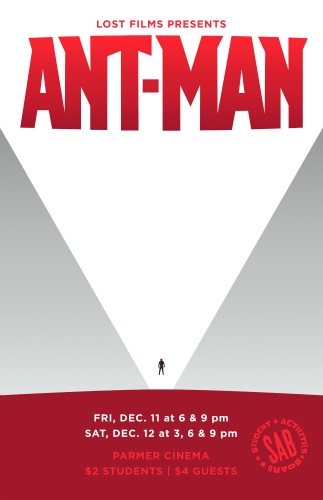 Ant-Man
Armed with a super-suit with the astonishing ability to shrink in scale but increase in strength, cat burglar Scott Lang must embrace his inner hero and help his mentor, Dr. Hank Pym, plan and pull off a heist that will save the world (IMDB).
Lost Films is SAB's weekly film series, bringing everything from blockbusters to indie movies to campus for five showings every weekend. Lost Films helps to fulfill SAB's mission to explore the intersections of faith, education, and popular culture. Showtimes for all films are Friday at 6:00 PM and 9:00 PM and Saturday at 3:00 PM, 6:00 PM, and 9:00 PM. Tickets are only available at the door before each showing. All films are shown in Parmer Cinema, located in Boyer Hall, which seats 125 and features state of the art acoustics and projection.
If you would like more information, or are interested in joining the Lost Films Committee, contact Chris Boggess.
Information on Lost Films