Ecologically Viable. Economically Strong. Socially Just.
These aren't just buzz words at Messiah College.
More than 40 years ago, before "going green" was hip and before Earth Day was included on calendars, Messiah was educating students about environmental stewardship and ethics. From the popular "Humankind and the Environment" course, the College's student-led environmental movement, Earthkeepers, and the start of campuswide recycling were born.
That was just the start of Messiah's ongoing commitment to caring for the earth. Now, environmental stewardship efforts at the College include everything from a robust recycling program, to an organic community garden, to a student-led composting program, to active restoration of the on-campus Yellow Breeches Creek.
Environmental stewardship isn't just the latest trend at Messiah College. It's a way of life.
Student Spotlight
Christina McIntyre '16
Recipient of the Fulbright Scholarship Award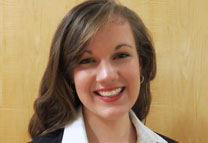 "I'm honored to receive a Fulbright scholarship to study in Canada. Over the next year, I will complete a Master's in Political Science at the University of Toronto while researching comparative low-income housing policy in Canada and the U.S. My research aims to develop a transferable model of social housing policy to bring together the best practices of low-income housing in both countries. As a citizen diplomat in Toronto, I'm especially looking forward to interacting with social housing and shelter providers to better understand the challenges of low-income housing in Canada. Adequate and affordable housing is a fundamental human need. Low-income housing policy has great potential to improve access to opportunity and quality of life, especially for vulnerable communities, and serving as a Fulbright Scholar will equip me to pursue a career in supporting equitable community development." -Christina McIntyre, Politics and Sustainability Studies with a concentration in Urban and Community Development
Sub-categories of Sustainability