Ecologically Viable. Economically Strong. Socially Just.
These aren't just buzz words at Messiah College.
More than 40 years ago, before "going green" was hip and before Earth Day was included on calendars, Messiah was educating students about environmental stewardship and ethics. From the popular "Humankind and the Environment" course, the College's student-led environmental movement, Earthkeepers, and the start of campuswide recycling were born.
That was just the start of Messiah's ongoing commitment to caring for the earth. Now, environmental stewardship efforts at the College include everything from a robust recycling program, to an organic community garden, to a student-led composting program, to active restoration of the on-campus Yellow Breeches Creek.
Environmental stewardship isn't just the latest trend at Messiah College. It's a way of life.
Student Spotlight
Olivia Mingora,
Psychology/Sustainability '17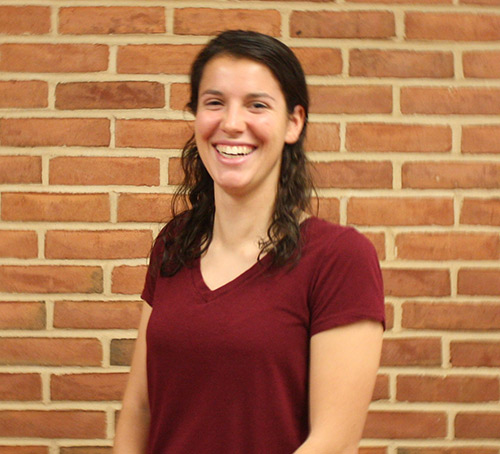 Grantham Community Garden Coordinator
Although modest in her everyday interactions with people and the garden, Olivia Mingora has brought life to the Grantham Community Garden. Olivia has been working in the Office of Sustainability for two years as a summer garden worker and as the Community Garden Coordinator. She is a natural in the outside environment and has an incredible work ethic which shined in this past year's garden gleaning. Her love for people, animals and the earth were evident throughout her time in our Office. Drawing on her experiences in Rwanda and Hawaii, Olivia has an uncanny ability to be patient and thoughtful when designing gardens or chicken runs.
Gardening is not Olivia's only strength! She recently presented about Campus Bee Keeping at a breakout session during the Green Allies Conference. After the conference she reflected and said, "I didn't realize how much I have learned through my work study experience in the Office of Sustainability. I knew nothing about bees or bee keeping when I started and now I am giving a presentation about them at a state-wide conference!"
Olivia is happy to have received several job offers which combine her love of outdoors with assisting adults with special needs. Olivia will spend the summer working on a local farm and in the Fall will have a year-long contract working in an inclusive farm living environment in Massachusetts.
Sub-categories of Sustainability