Message from the President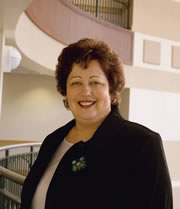 With a simple prayer and great faith, Messiah College was founded 100 years ago by people with a bold vision who believed that a Christ-centered education is not only important but also necessary to fully prepare students for lives of leadership and service to all humankind. God has been faithful to Messiah College for these many years, and we have graduated thousands who have gone forward to use their gifts to make a difference just as our founders imagined – possibly beyond what they imagined.

I believe there is no better time in our history and no better way to honor the faithfulness, courage, and vision of our founders than through the completion of the Messiah College Centennial Campaign, which will allow us to fulfill a long-awaited promise: to build a new Worship and Performing Arts Center.

Where words fail, music and theatre often become the vehicles of expression for worship and reconciliation, connecting us to God and helping us to appreciate and understand others. When people gather to worship or attend an artistic performance, hearts and lives can be transformed, relationships can be nurtured and strengthened. Our new Worship and Performing Arts Center will provide a much-needed venue for this kind of expression, transformation, and community engagement.

The Centennial Campaign also will help us raise funds for other critical needs: the Center for Public Humanities, the Annual Fund, several enhancements to current programs and facilities, and, most importantly, scholarships for students who want to attend Messiah and will thrive here but who may find the financial cost to be an obstacle.

This campaign is a celebration and an affirmation of a mission that has withstood the test of time. But most importantly it is about and for our students. If you believe in the mission of Messiah College, were transformed by the Messiah experience, or agree that today's students offer our best hope to meet tomorrow's greatest challenges, I invite you to participate in Messiah College's Centennial Campaign.
Warm regards,
Kim S. Phipps, President, Messiah College