News / Events
Development Staff Tour High Center
On June 11, the Office of Development had the opportunity take a tour of the construction of the High Center for Worship and Performing Arts. Kathie Shafer, VP of Operations, led the group, explaining along the way how the different spaces would be used and what work has yet to be completed.
Messiah Professor elected to American Bandmasters Association
Brad Genevro, director of bands and associate professor of music, was elected into American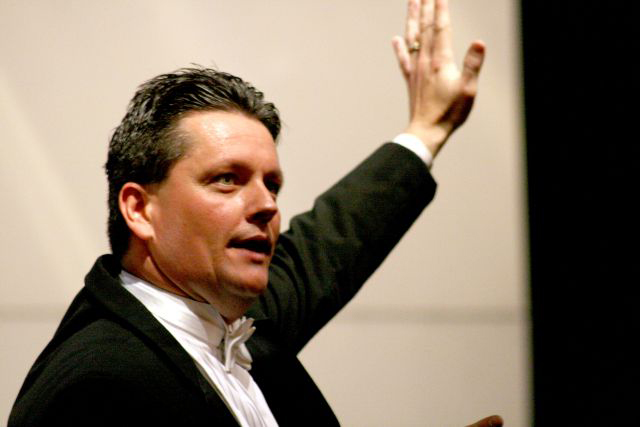 Bandmasters Association (ABA) at their recent National Convention held in Indianapolis in March. To be elected into membership, a candidate must be nominated by a current member of ABA (there are only about 300 members in the U.S. and Canada) and then submit credentials and professional works for rigorous consideration, critique and approval by the membership committee. Other members include: John Philip Sousa; Charles Benter, director of the United States Navy Band; and J. J. Gagnier, director of His Majesty's Grenadier Guards Band.
Genevro was also a recent guest conductor for many honor bands on the east coast. These include: ASBDA Honor Band in Durham, Conn., District 9 Honor Band in Lakeland, Pa., District 4 band in Chesapeake, Va., Lebanon-Lancaster County Band in Palmyra, Pa. and Schuylkill County Band in Schuylkill Haven, Pa. During his time with these honor bands he worked with 600 high school students and 125 music educators.
From Grantham to Hollywood!
Adam Brock, a 2007 graduate of the Messiah Department of Theatre, has gone to Hollywood for American Idol! Adam appeared in many Messiah theatre productions, including leading roles in the musicals
A Funny Thing Happened on the Way to the Forum
,
Into the Woods
, and
Urinetown
. He also appeared in Bertolt Brecht's
Caucasian Chalk Circle
. He sang for several years in the Jazz Singers (nowOne College Ave), and studied voice with Damian Savarino and Elaine Henderson. He currently serves as Creative Arts Pastor at Central Assembly of God church near Pittsburgh.
You can watch Adam's journey by tuning in to Fox on Wednesday and Thursday nights. Or send him a message of encouragement by liking his facebook page at: https://www.facebook.com/pages/Adam-Brock/9987992204
Perhaps Adam will once again perform for the Messiah College community when the Calvin and Janet High Center for Worship and Performing Arts opens?
NEH Challenge Grant supports Messiah College's Center for Public Humanities to advance culture
Through Messiah College's Center for Public Humanities,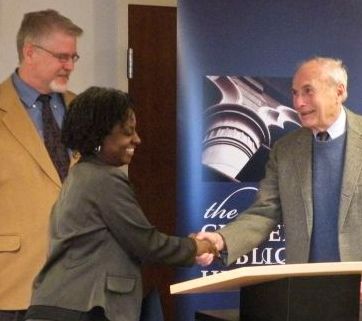 Messiah Trustee, Ronald Katzman (right),
congratulates a new graduate of the
Hoverter Course as Dean of the School
of Humanities Peter Powers looks on.
theCollege brings together academic, civic and cultural communities to advance culture and learning well beyond the borders of its campus. The Center sponsors several innovative forms of public humani­ties outreach programs such as the annual humanities symposium; the Hoverter course, which provides tuition-free higher education courses for those whose circumstances have prevented them from pursuing a college education; a history day competition for regional middle and high school students; and interesting lectures, film series, seminars and worship services — all of which are free and open to the public.
The Center also provides working groups of faculty and student fellows, as well as individual faculty members and students, with opportunities to offer their expertise to the wider community through service, teaching and public speaking.
The National Endowment for the Humanities, an independent, grant-making agency of the United States government dedicated to supporting research, education, preservation and public programs in the humanities, recognized Messiah's strong commitment to outreach by awarding the College a $200,000 challenge grant for the Center for Public Humanities in 2006. The College was one of only 22 applicants — out of 122 — to receive the prestigious award. Moreover, Messiah was the only liberal arts college in the country funded for a Humanities Center that year; the other recipi­ents included large research universities and libraries. In order to receive the grant, Messiah must raise $600,000 by the end of the year. To date, the College has raised $485,000 toward this goal.
Disability Advocate Group Joni and Friends provides grant to support Messiah's Collaboratory for Strategic Partnerships and Applied Research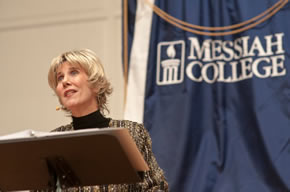 As one of the nation's most well-known advocates for people with physical disabilities, Joni Eareckson Tada created Joni and Friends "to communicate the gospel and equip Christ-honoring churches worldwide to evangelize and disciple people affected by disabilities." Through this ministry, Joni has offered hope and healing to thousands of hurting people and their families.
As part of the Centennial Campaign, the Messiah College Collaboratory for Strategic Partnerships and Applied Research was privileged to receive a $2,500 grant from Joni and Friends to help fund the Mobility Project, which develops assistive technologies to increase the mobility of persons with physical disabilities. By designing and building hand-powered and electric tricycles, Messiah students, faculty, and friends are working to bring increased mobility to disabled persons living in the village of Mahadaga, Burkina Faso. These devices are designed to be cost appropriate for the village's economy and are suitable for local terrain.
Joni Eareckson Tada and her husband, Ken Tada, visited the Messiah campus March 3-4, 2011. Students were inspired by her message of God's provision and love in her life.
Scholarship Formed in Memory of Messiah Student Adrian Wilson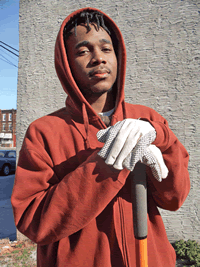 In July 2008, Messiah College student Adrian Wilson passed away while swimming off the coast of Spain, where he was spending part of his summer to serve with the international organization Worldwide Opportunities on Organic Farms. He and fellow Messiah student, Francis Eanes '09, had successfully started Messiah's own community garden and were in rural Spain to serve and further their passion for sustainability.
Adrian was a beloved member of the Messiah community. Having traveled from his home country of the Bahamas to start college at the young age of 16, he often surprised his peers with his insight and others-before-self mentality.
In memory of Adrian, Messiah alumnus Franics Eanes is reaching out to alumni and friends of Adrian to work towared establishing The Adrian Wilson Memorial Scholarship. Scholarship endowments are an important component of the Centennial Campaign.
To learn, more contact Jon Stuckey, director of development.
Wells Foundation Provides $35,000 Matching Grant for Nursing Scholarships
A key component of the Centennial Campaign is raising additional support for scholarship endowment and general scholarship aid. The Wells Foundation is offering an exciting matching gift opportunity for donors who wish to support scholarship endowment designated to Messiah's stellar nursing program.
Donors who wish to participate in the Wells Foundation matching grant may support one of the following areas:
The Wells Nursing Endowment
The Peggy Walters Nursing Endowment
The Stabler Nursing Endowment
new nursing endowments
For any gift made to one of these four designations, the Wells Foundation will match the gift or gifts up to a maximum of $35,000. For example, if a $10,000 gift is made to the Walters Nursing Endowment, the Wells Foundation will contribute $10,000 to the Walters fund. If a donor contributes $10,000 to establish a new nursing endowment, the Wells Foundation will contribute $10,000 to the new fund.
By the end of the matching grant period, a total of $70,000 ($35,000 in new funds and $35,000 from the Wells Foundation) will have been added to the collective nursing scholarship endowment at Messiah College.
Groundbreaking for the High Center for Worship and Performing Arts
A groundbreaking and naming ceremony for the worship and performing arts center took place on Thursday, May 13, 2010 at 8:30 a.m. in the outside courtyard area of the Climenhaga Fine Arts Center, which is the future site of this wonderful new facility. 
In honor of their transformational gift for the Center, this new facility will be called the Calvin and Janet High Center for Worship and Performing Arts.
Centennial Campaign Gala
On Wednesday evening, May 12, 2010, Messiah College officially launched the Centennial Campaign with a special dinner and program celebrating the College's century of engagement with worship and the performing arts.
This memorable evening was attended by trustees, administrators, generous supporters, Messiah alumni, and community leaders  and featured student and faculty performances, inspirational stories, and exciting announcement regarding Messiah's vision for our second century.
Featured musical performances included the Mendelssohn Piano Trio, Messiah's ensemble-in-residence; the Messiah College Jazz One; the Messiah College Concert Choir; and the Messiah College Orchestra.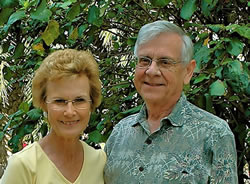 During the evening program, Messiah College's Vice President for Advancement, Barry Goodling, announced the name of the worship and performing arts center. The new facility is named the Calvin and Janet High Center for Worship and Performing Arts, in recognition of the transformational gift to Messiah College that Calvin and Janet High (pictured at right) so generously provided in support of this facility.
Read the official news release.
View photos of the Centennial Campaign Gala.