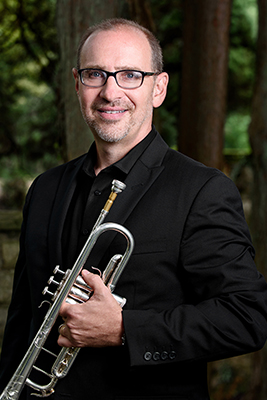 William Stowman, D.M.A.
Professor of Music, Department Chair
Classes I teach
Applied Trumpet
Jazz Ensembles
Trumpet Ensemble
Graduate Wind Conducting
Graduate Projects
Profile
Dr. William Stowman is in his 26th year of teaching at Messiah University. He is Professor of Trumpet, Chair of the Department of Music, directs the Trumpet Ensemble, and directs the top Jazz Ensemble.

He is the recipient of the Robert and Marilyn Smith Award for Excellence in Teaching at Messiah College, and has also earned the Pennsylvania Music Educators Association Citation of Excellence for teaching at the collegiate level.

As a trumpeter, Bill has three solo CD's to his credit. A Matter of Seconds, A Timeless Place, and Parable have all met with positive critical acclaim. Fanfare Magazine wrote ". . .crystalline clarity of tone, and impeccable legato" to describe his playing. He has also recorded with the North Texas Wind Symphony with Eugene Migliaro Corporon and he Keystone Wind Ensemble with Jack Stamp. Bill regularly performs with Tromba Mundi Trumpet Ensemble, the Messiah University Faculty Brass and BrassCross.

He is active as a guest conductor, clinician, soloist, and composer. His works have been performed by the Atlantic Brass Band, Tromba Mundi, and various trumpet ensembles and wind bands across the country.