The Harrisburg Symphony Orchestra performs Brahms Requiem: Kevin Puts: Symphony No. 1, Brahms: A German Requiem
Date: April 17th, 2015
Location: Parmer Hall, The Calvin and Janet High Center
Time: 8:00am - 7:00pm
Cost: All tickets are general admission; $35 each. To purchase, or for more details, call the Messiah College Ticket Office at 717-691-6036.
In contrast to the heaven-storming, fire and brimstone Requiems of the likes of Berlioz and Verdi, Johannes Brahms's "A German Requiem" is a work of peaceful consolation and surpassing beauty.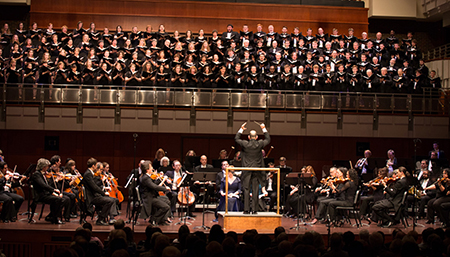 Performed by The Harrisburg Symphony Orchestra, conducted by Stuart Malina; The Messiah College Concert Choir, Messiah College Choral Arts Society and the Susquehanna Chorale, conducted by Linda Tedford, artistic director.
These performances will be sung in English. On the first half, the Harrisburg Symphony Orchestra presents the 1st Symphony of Pulitzer Prize-winning American composer, Kevin Puts.
Sponsored by the Messiah College School of the Arts
To order tickets call 717-691-6036