Into the City
An intensive two-day career immersion and networking program, intended to expose students to living, working and connecting in the city. For more information please download our Into the City brochure!
The next Into the City trip will be to Chicago from October 11- October 13. Students, applications will go live September 1st!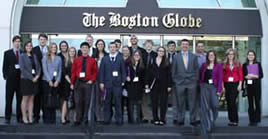 Personal Experiences
See our previous list of employers, photo gallery, and quotes from past participants for a better look into what Into the City can offer.
See Experiences